Starbreeze "in constant fear" Syndicate is too hard
Will take 50 hours to unlock everything in co-op.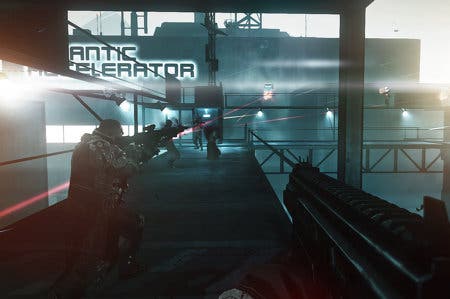 Syndicate is supposed to offer a hardcore experience, one in keeping with the old school strategy games upon which the shooter is based - but that hasn't stopped developer Starbreeze from worrying it's gone too far.
With gamers now playing the four-player co-op demo, Starbreeze told Eurogamer it's worried it's made the FPS - designed to introduce the Syndicate franchise to today's gamers - too hard.
"We're in constant fear we made it too hard," lead co-op programmer Lars Magnus Lang said.
"It's hardcore in the aspect of if you try to play it as a shooter straight on it will be really hard. You need to take a different approach from other shooters where you try to really cooperate and heal and revive each other, almost like an MMO experience.
"We have taken some inspiration from MMOs with the breach applications and the healing and reviving. It's a mixture of those elements with the shooting experience. You can still play it as a full on shooter. You can do the tank priest concept. But the best thing is when everyone grasps the concept of healing and reviving and everyone is doing it."
Syndicate does not have an easy difficulty setting. The difficulties are divided up into stars: one star for normal, two stars for hard and three stars for insane. "One star, we don't want to call it easy because it's not easy, so instead we said, let's start at normal. There's no easy difficulty."
Still, Lars said the normal difficulty - one star - becomes "almost too easy" once players begin to work together.
"Three stars is really tough," he said. "We can complete three stars in the office when QA play. But in two days there will be players that are better than I am at this game. That's for them, the ones who want that really tough experience."
The single-player campaign is similarly tough, but is designed to teach players "a few things that might be useful in co-op". You learn how to use breaches, for example, and the various game systems.
The co-op, then, is where most players will turn once the single-player is completed. To unlock everything on offer here, expect to put in around 50 hours.
"If you already played it and you're really good at it you can just run through the maps with other good players if you play on one star difficulty," Lars said.
"But then we have scripted it differently on the different difficulties, so you will encounter more interesting enemies and have some special events that only occur on certain difficulties. We have mercenary events and more mini-bosses - a lot more mini-bosses - on three stars, for example.
"You might be totally overwhelmed with missiles you need to breach in the air, something we tried to avoid in one star difficulty. Ambushes, for example. Before people learn the breaching mechanism it's a lot to keep track of. It's a lot to keep track of normal, but on three star difficulty multiply that a couple of times."
He added: "We have a progression system in there - if you want to unlock everything you will have to play 80 to 100 missions and complete them successfully. That will probably take at least 50 hours - maybe more. It depends on how good you are."
Syndicate launches on 24th February.