Star Wars Jedi: Fallen Order finally lets players ditch an ugly lightsaber part
The miscerey is over.
Mild spoilers for Fallen Order ahead.
I've recently been poking my head into a Star Wars Jedi: Fallen Order modding Discord - and strangely, one of the main targets for modders has been something rather small: the removal of a lightsaber part. Those who've completed a fair chunk of Fallen Order's story, however, will know this small switch - added after a story event - becomes a serious pain when you want to create a beautifully balanced double bladed lightsaber. Cere's switch has a nice narrative reason for being there, but it's not the prettiest to look at, and there's been no way to hide it.
Thankfully, a new patch will save the modders some work - as Respawn is adding the ability to ditch the switch.
As detailed in today's patch notes, players who want to remove the component need only enter the lightsaber customisation menu, and activate the option with a "simple button toggle". Freedom at last.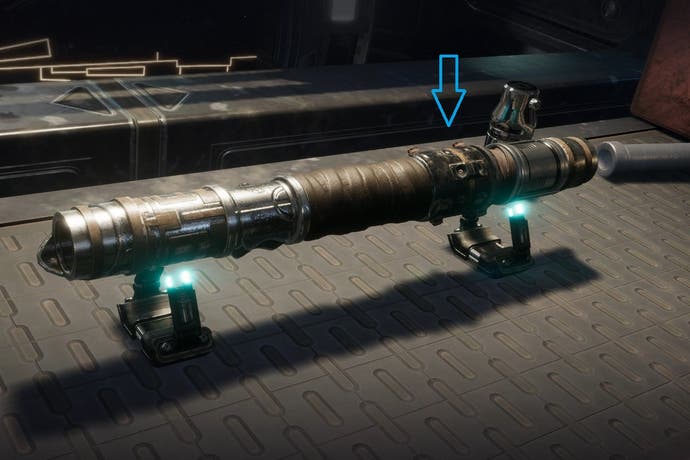 The other major addition in this patch is a photo mode, which should allow players to take some lovely shots of their cleaned-up sabers. Once enabled in the settings, hitting LT and RT or L3 and R3 at the same time will bring up the photo mode, allowing players to tinker with a range of options (such as focal distance, vignette and removing the player) to create their "perfect Jedi moment".
Previously, one of the only ways to take photo mode-quality snaps was by using an Unreal console unlocker and custom camera tools (as demonstrated by Frans Bouma, below), so expect to see plenty more Star Wars landscapes like these on your timeline soon.
Star Wars Jedi: Fallen Order (PC, own camera tools, own unreal console unlocker for tweaks, srwe, reshade). Today I post 3 shots of the same scene: game paused using the console unlocker, camera moved to various locations to get different shots. Edited with different LUTs. pic.twitter.com/XAvrriSICC

— Frans Bouma (@FransBouma) November 25, 2019
Along with these two main changes, the patch brings a host of bug fixes - tackling everything from floating Cal to an infinite loop elevator. Can't he just use force lift?