Star Wars: Battlefront's Outer Rim DLC detailed
UPDATE: Release date and new gameplay trailer emerges.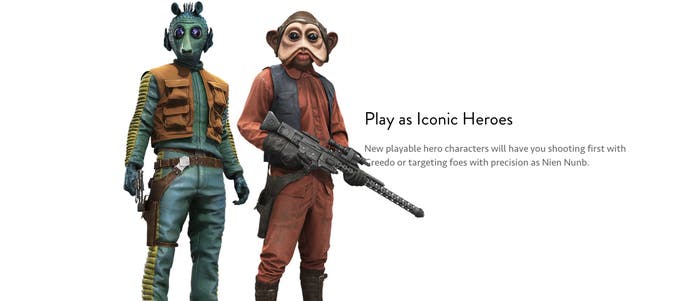 UPDATE 17/03/206 7.21pm: Star Wars: Battlefront's upcoming Outer Rim expansion has been dated for 22nd March with a Season Pass. Those without one will have to wait an additional two weeks, so you're looking at 5th April.
DICE has released a new trailer showing off gameplay from the impending add-on. Finally, we can enjoy Han shooting first again.
ORIGINAL STORY 03/03/206 2.02am: Last week a piece of Star Wars: Battlefront promo art teased Greedo and Nien Nunb as playable characters in the upcoming Outer Rim DLC expansion due later this month. Now EA has confirmed the "iconic" pairing as a villain and hero respectively.
In case those names don't ring a bell, Greedo is the guy Han shot under the table in Mos Eisley cantina in the original Star Wars, while Nien Nunb is the flabby-cheeked alien creature who co-piloted the Millennium Falcon with Lando in Return of the Jedi's third act.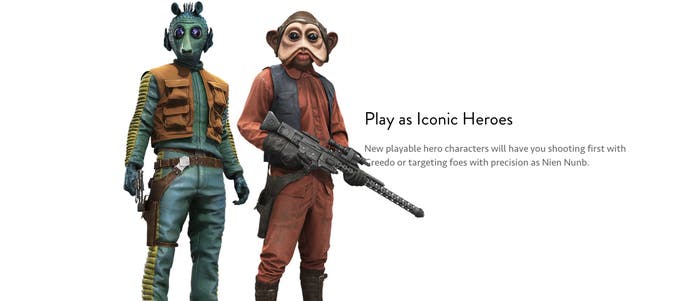 EA also noted that Outer Rim will contain three new maps: the industrial factories of Sullust, Jabba's throne room, and a sail barge garage on Tatooine.
Furthermore, Outer Rim will bring about a new mode called Extraction wherein Rebel forces must haul a valuable shipment of resources while the Empire is tasked with stopping them from reaching the extraction point.
The expansion will also add new weaponry such as the Relby V-10 rifle, DT-12 blaster pistol, Scatter Gun, Dioxis Grenade, and Adrenaline Stim Star Cards.
What Outer Rim won't add is any single-player story content, much to Finn actor John Boyega's chagrin.