Star Wars: Battle Pod home version confirmed
Yours for only £24,000 (shipping and setting fees not included).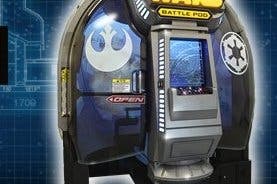 Star Wars: Battle Pod, the gloriously lavish arcade cabinet that reenacts the best space battles from the epic film saga, can now be yours for a mere £24K / $35K (shipping and setting fees not included).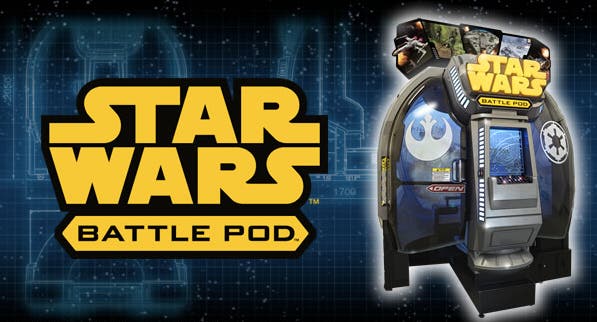 Today Bandai Namco announced the commercial version of the arcade cabinet, that puts players in the rumbling, reacting seat of an ace space pilot.
If the regular Battle Pod is too kitschy for your blood, there's an even ritzier Premium Edition set at $100K (about £65K). These come in two different flavours: one favouring the Rebel Alliance and the other Darth Vader. Both will include genuine leather seats, exclusive carpeting, a specially bound owner's manual, and a plate engraved with the owner's name and the cabinet's serial number. Each Premium Edition Battle Pod will even be tailored to include the owner's name in the game's end credits.
Our Martin Robinson played the Star Wars: Battle Pod earlier this year where he really enjoyed the experience for a tenner. "At £2 a play for each of the missions, I blasted through a tenner to see the 15 minutes of fun the game offers. Do I regret spending that much? Not really," he wrote. "For a quarter of an hour I was transported back to being a wide-eyed 10-year-old, and given the fresh wonder of experiencing Star Wars and playing arcade games for the very first time."
Now he need only play it 2400 times that for the Battle Pod to pay itself off.