Star Citizen companion game Squadron 42 will not be released in 2016
Sounds like it's months away yet.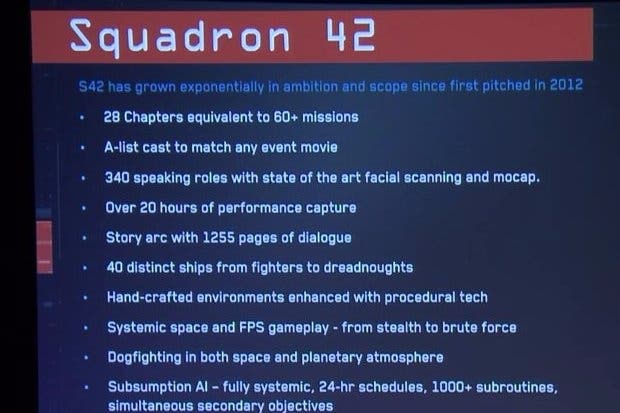 Squadron 42, the single-player Star Citizen companion game - the one with all the Hollywood actors - will not be released in 2016. Overlord Chris Roberts confirmed it on stage at CitizenCon 2016 in the wee hours of the morning.
"As much as we wanted to have Squadron 42 for this year, it's not going to be this year," he said.
Squadron 42 had carried a "2016" release date until now - indeed, the game's website still listed that date moments go.
Roberts didn't share any new release date for Squadron 42 but he did give an update on progress - and it sounds like there's months of work to do.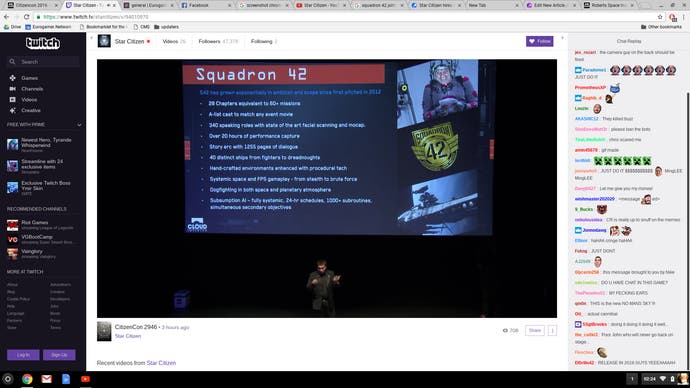 Squadron 42 has 28 chapters (the equivalent of around 60+ missions) and they're all grey-boxed - ie. blocked out - or better. Roberts had hoped to have one chapter at final shipping quality to show at CitizenCon 2016 but it wasn't ready. And whereas he's prepared to show work in progress Star Citizen content, he's reluctant to do the same for the storied Squadron 42 experience.
SQ42 has 20 hours of performance capture from 1255 pages of dialogue, performed by top Hollywood actors including Mark Hamill, Gillian Anderson, Gary Oldman, Andy Serkis and John Rhys-Davies. Roberts teased that there were a few other actors that they hadn't talked about, and who would be a surprise, too.
While lots of the assets used in Squadron 42 are carried across from Star Citizen, they're distressed or destroyed or tailored for the story experience. There are 40 distinct ships, Roberts said, and handcrafted environments, proper AI with daily routines and so on.
The aim for each chapter, broadly, is to have a flying part, an on-foot part and maybe a meet-and-greet, mission-fetching part. The idea for the tasks themselves is to have everything be systemic, meaning there will be multiple ways to achieve goals. Think along the lines of Far Cry, I guess.
Arguably the most impressive part of the CitizenCon 2016 conference was the procedurally generated planets version two demo that Roberts introduced for Star Citizen. This showed some genuinely gobsmacking vistas and even went as far as sand people, Mako-like buggies and giant worm creatures. It was very Star Wars and Mass Effect and Dune. Three-quarters of the conference is in the video embedded above.