Stadium returns for TrackMania 2, while ShootMania is given a final release date
Classic setting coming as part of free-to-play push from Nadeo.
TrackMania's classic Stadium setting is making a return for Nadeo's sequel, and it'll form the free-to-play component of the soon to be expanded TrackMania 2.
Stadium's on course for release at an as yet undisclosed date early next year, and it'll arrive in tandem with Valley, the first expansion proper for TrackMania 2 since it launched with Canyon last September.
Whereas Stadium places an emphasis on the over-the-top elements of TrackMania, Valley's a more down-to-earth approach. It's based on a map that allows for tree-lined roads, tight corners and an experience that's more like that of a traditional racing game - although its taste for ludicrous jumps ensures that it holds on to the TrackMania character.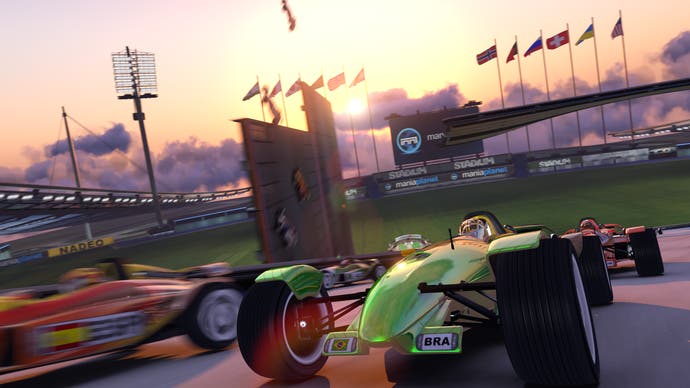 "Some people say we are making a car racing game for the first time with Valley," said Nadeo founder Florent Castelnerac. "Before it's been crazy crazy - now it's just driving crazy."
TrackMania 2 Valley and Stadium will join ShootMania: Storm on developer Nadeo's bespoke ManiaPlanet platform, which currently hosts TrackMania 2 Canyon.
ShootMania: Storm has also been given a release date, with Nadeo aiming to get the frenetic multiplayer shooter out on January 23 next year. Storm's just about to enter the second phase of its beta, which introduces grappling hooks and wall jumps as well as a new mode, Royal Team.
Eurogamer spoke to Castelnerac recently about Nadeo's plans for ShootMania, and how it's hoping to be the number one FPS in the eSports scene.