Stadia's wireless controller won't be wireless for phone and PC play at launch
Words of a tether.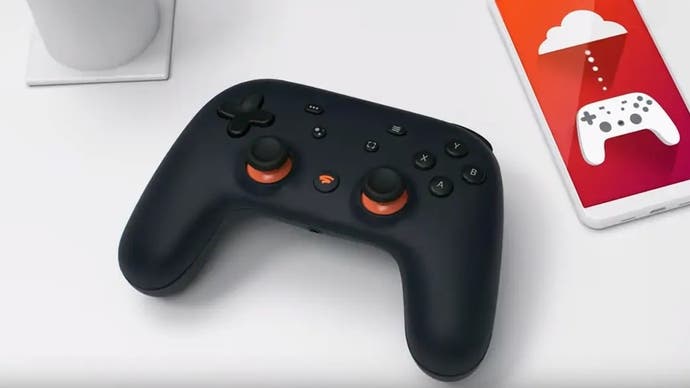 Google has confirmed that Stadia's bespoke wireless controller will only be wire-free for those users playing on TV via its Chromecast Ultra device at launch. Anyone wishing to use the game streaming service on PC or mobile will be tethered via USB for the foreseeable future.
When Google initially unveiled its Stadia controller back in March, one of its key selling points was that it would connect directly with Stadia's servers through wi-fi, allowing players to switch seamlessly between devices throughout a single game session.
However, as briefly noted in Google's new Stadia introductory video below, that will no longer be possible on launch day, with those users playing on PC and mobile now required to connect the controller via USB-C before resuming their game. And as all other supported HID compliant controllers must also be tethered via USB through Chrome, it sounds like wireless is out completely for non-Chromecast-Ultra platforms initially.
As for the reasoning behind the newly introduced limitation, Google told The Verge that it's the result of wanting to focus on "getting wireless play right on TV first" in order for the "big screen experience to be as good as possible". It did not, however, offer an indication of when wireless play might be available on other non-Chromecast-Ultra devices.
Admittedly, given that the only way to access Stadia's initial roll-out on 19th November is by purchasing a £119/$129 USD Founders Edition, which includes a Chromecast Ultra, it's debatable whether the news will be a significant concern for the majority of early adopters.
Even so, those who have paid for the privilege of early access will almost certainly be eager to receive the service's full previously announced functionality before it's made available to everyone, for free, sometime next year.