Square Enix confirms next-gen Tomb Raider sequel
Lara Croft follow-up "well into development".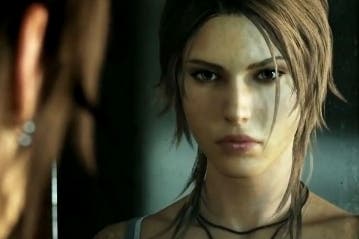 Tomb Raider publisher Square Enix has just confirmed a next-generation follow-up to Crystal Dynamics' recent series reboot.
A sequel to the game was hinted at last week by the author of a new Tomb Raider comic series that will bridge the gap between the two games.
Square Enix's new Western boss Phil Rogers revealed the news in an open letter where he talks at length about some of the company's recent financial troubles and restructuring.
"I am also excited to reveal that we are well into development on a next-generation Tomb Raider sequel - something you may have heard about recently!"
Rogers made no mention of a release date or specific launch platforms for the Tomb Raider sequel.
"You may have read today that a next-generation sequel to Tomb Raider is in the works," wrote newly-promoted Darrell Gallagher, until recently the boss of Crystal Dynamics, in a statement published on the official Tomb Raider Tumblr. "We're very excited to confirm that the team has started working on telling the next chapter in Lara's tale.
"It's still early days, so I'm afraid I can't provide any further details for now save my assurance that we're not resting on our laurels and acclaim from Tomb Raider's recent successes, but working hard to raise the bar even higher and re-affirm the faith you've shown."
Square Enix has had a rough start to the year - it posted what it described as an "extraordinary loss" in its year-end financial results and spent £69.87 million restructuring the company.
Part of the problem was Square Enix's ridiculously-high internal expectations for its last few blockbuster launches. The company thought Tomb Raider could sell nearly double its 3.4 million first month sales, for example.
It was during this restructuring that the company replaced long-time global president Yoichi Wada, while Rogers was appointed to keep a closer eye on North America and Europe.
"There's been speculation and commentary made this year about Square Enix's strategy in the Americas and Europe, and I know we've not outwardly commented or addressed this, so some folk may be confused about what we're actually doing," Rogers wrote.
"First and foremost, we are a games company and today we devote most of our time and effort into developing new and rich gameplay experiences, worlds and characters. At the same time new business models have risen up, which we periodically will try to explore. I know this can be frustrating for some long-time fans of our games, particularly if it seems that we're heading in unfamiliar directions without much in the way of explanation. Explaining our approach to these opportunities is something we're working to improve on.
"I can categorically say that we're not abandoning core, triple-A console and PC games. We're working hard at improving how we develop our games and how we release them, and I want to explain that in a little more detail.
"We've recently re-orientated our studio leadership to focus production expertise at the top, to allow us to ship the best quality games possible, faster and with better cost control. We've taken away administrative duties from studio heads, so they get closer to the games, gameplay and gamers with fewer distractions. We've made these changes to all of our studios in the Americas and Europe and we believe this will improve not only the quality of our games, but also improve the time between releases."
The changes haven't gone entirely smoothly, however. Rogers doesn't mention the incident specifically, but his open letter comes in the wake of the very public exit of ex-Eidos Montreal founder Stephane D'Astous. He cited "irreconcilable differences" with the company upon his recent departure, and blasted it as having "some things to learn" about selling games.
"I've spent the past few months building a senior team in the Americas and Europe to support our new and evolving strategy," Rogers concluded. "We plan to share a fuller title release plan with you soon on games ranging from next-gen blockbusters (the above mentioned Tomb Raider sequel) to new cutting-edge tablet and mobile games (such as the recently released Deus Ex: The Fall), to live and online PC games (our now in beta Heroes & Generals).
"You will definitely hear more soon about which games we're working on, when you should look out for them and more frequent updates on how development is going. Please feel free to mail me your feedback. I can't promise I'll respond to every mail but you can be sure your concerns will be heard and taken on board. Thanks for reading."