Spyder is an Apple Arcade exclusive where you play as a Bond gadget
Webby, set, go.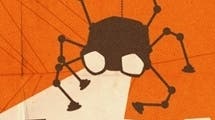 Sonic Racing developer Sumo Digital has unveiled its next project - an Apple Arcade exclusive named Spyder, available as part of the subscription from today.
You play as an eight-legged robot sent on secret agent missions. Basically, you're one of Bond's gadgets come alive, in a 3D world inspired by Pixar's The Incredibles.
Spyder looks a mix of puzzling and stealth, as you'd expect from a spy-themed game. You can climb inside buildings, into planes, into space stations. You can climb walls. You can climb on the ceiling. Here's a trailer:
Eurogamer readers with a long memory may have seen Spyder before, under the guise of 8-Legged Project. It was one of several ideas borne out of a Sumo Digital game jam which Martin went to go watch back in summer 2017.
"Spyder takes place in a romanticised alternate 1971, in a golden era of espionage," Sumo told Eurogamer. "Players take on the role of an unexpected hero: a spider-like gadget called Agent 8 who's able to infiltrate high-security locations from the depths of the ocean to orbit high above the Earth."
Here's hoping this one has legs.