Spider-Man PS4 continues the trend of useful accessibility options in video games
Big subtitles mode.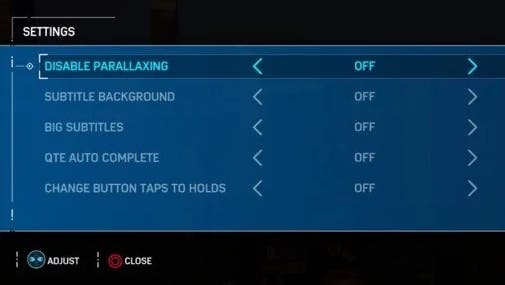 I suspect many of you are currently enjoying swinging your way through New York in Spider-Man for PlayStation 4 (if you haven't read it already, be sure to check out Christian Donlan's review). But if you pause for a second to dig into the settings, you'll find some cool accessibility options available.
Following in the footsteps of Naughty Dog's Uncharted and Eidos Montreal's upcoming Tomb Raider, Insomniac's Spider-Man includes a raft of settings designed to make the game as accessible as possible.
For example, if you disable parallaxing, HUD elements will stay in place on-screen. You can skip puzzles, too, which means the game's circuit puzzles, spectography puzzles and surveillance tower puzzles will immediately have the option to skip. You can also enable big subtitles, QTE auto-complete and changing button taps to holds.

As pointed out by Mark Brown of the wonderful YouTube series Game Maker's Toolkit, Spider-Man's accessibility options are the latest in a trend for such things in games from big ticket publishers. I've already mentioned Naughty Dog and Eidos Montreal, but Microsoft deserves a mention for its groundbreaking Xbox Adaptive controller.
2018 has been pretty excellent for accessibility in games. Soon, inaccessible games will be the outliers.

(Spider-Man, Shadow of the Tomb Raider, God of War, Celeste) pic.twitter.com/2et4Olp2pD

— Game Maker's Toolkit (@gamemakerstk) September 7, 2018
With all this good work being done by publishers, it's easy to imagine a point in the near future when accessibility options such as these are the norm rather than the exception.