Spider-Man Miles Morales guide: Main mission list, story unlocks, side missions and mission structure explained
Everything you need to know about the main campaign for Miles Morales.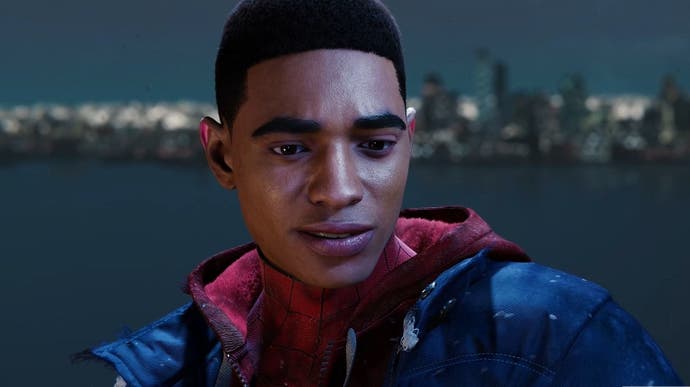 Spider-Man Miles Morales continues the storyline from Insomniac's 2018 Spider-Man, but this time it's focusing on the newest Spider-Man on the block.
As Miles Morales, there's a new conspiracy for you to investigate in the main missions, alongside a host of new side missions, activities and challenges for you to complete across Manhattan.
Below you can find our Spider-Man Miles Morales mission list and story unlocks, along with an explanation of how the mission structure works and links to other Miles Morales guides.
On this page:
Mission list and story unlocks for Spider-Man Miles Morales explained
Below you'll find a list of all the main missions in Spider-Man Miles Morales, along with the XP rewards and any notable features which are unlocked by completing a specific mission:
Spider-Man Miles Morales main missions:
Hold Onto Your Web-Shooters (3500 XP)
Parting Gift - (1000 XP)
New Thwip (3500 XP)
We're Here For You (3500 XP)
La Nochebuena (3500 XP)

Unlocks FNSM App Activities

Reconnecting (1500 XP)
Time To Rally (4000 XP)
Some Left The Lights On... (1500 XP)
Corporate Espionage (4500 XP)
Underground Undercover (4500 XP)

Unlocks Underground Hideouts

Curtain Call (5000 XP)
Breaking Through The Noise (5000 XP)
Tinker Tailor Spider Spy (6000 XP)
Thicker Than Blood (5000 XP)
Like Real Scientists (5500 XP)
The Battle For Harlem (5500 XP)
Other Spider-Man Miles Morales guides:
Boss battles:
Challenges:
Spider-Man Suit:
Side missions:
Other: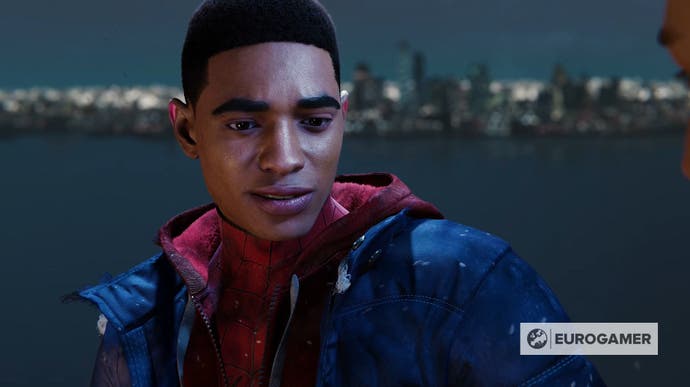 Mission structure in Spider-Man Miles Morales explained
Spider-Man Miles Morales follows the same kind of mission structure as its predecessor; giving you an open world version of Manhattan, a campaign to complete and a variety of extra activities to partake in whenever you feel like it.
The majority of the main missions will start once you've completed the previous mission, placing a waypoint on the map, so that you can web your way to the next objective. Once you reach this location, the storyline will automatically continue.
There are times, however, when you're given a short break from the main campaign to either complete complete side missions, activities or simply explore the city. You're completely free to do whatever you like during these moments, so have fun until the game reveals where to go next.
It's important to remember, however, that Spider-Man Miles Morales doesn't force you to continue the storyline. Instead, it allows you to decide when you want to continue with the main campaign.
---
Spider-Man Miles Morales has arrived, so check our mission flow guide to learn about the story unlocks and main campaign. After that, discover more about the Spider-Man suits Miles' can wear, including how to unlock the Bodega Cat suit, Into the Spider-Verse suit, Purple Reign suit, and the Winter suit. We also have guides on the location for every postcard, sound sample and time capsule.
---
Side missions, activities and challenges in Spider-Man Miles Morales explained
After you've completed the main campaign in Miles Morales, or if you simply want a break from the storyline, you're free to partake in a variety of activities and challenges that are dotted around Manhattan. These include stopping crimes, completing FNSM App Activities, finding Underground Caches, doing your Spider-Training and working through a number of side missions.
You will have to play a portion of the main storyline to unlock these activities; Spider-Training, for example, is unlocked after completing the 'New Thwip' mission and you gain access to the FSNM App once you've completed 'La Nochebuena.'
After you've unlocked an activity though, you can go and partake in it at any point during the game.
You can also easily discover which activities are in which district and how many you have left to complete by visiting the main map. Scrolling over the districts of Manhattan in this map will also tell you how many missions you have left to complete there and it might also reveal the specific location of a certain challenge, such as the Underground Caches.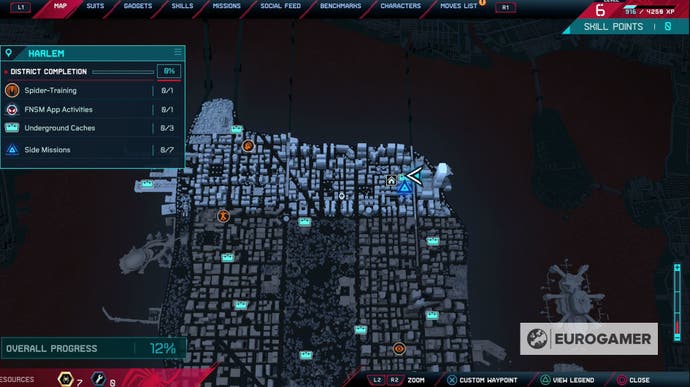 The FNSM App will also allow you to quickly determine which side missions, crimes and FNSM App activities are occurring nearby. If you select something from the app, a waypoint will appear, helping you quickly navigate the side.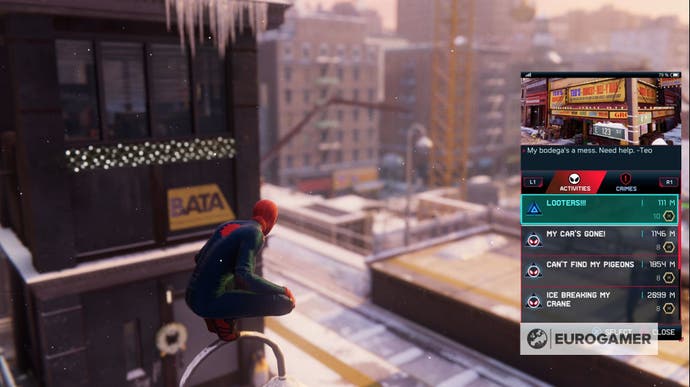 Depending on which challenge or activity you decide to complete, you could be rewarded with Activity Tokens, Tech Parts, XP and maybe, if you complete the right side mission or challenge set, a new suit.
Good luck completing Spider-Man Miles Morales!