SpaceChem dev releases "open-ended programming game" TIS-100 on Early Access
Print the instructions, solve the machine's true purpose.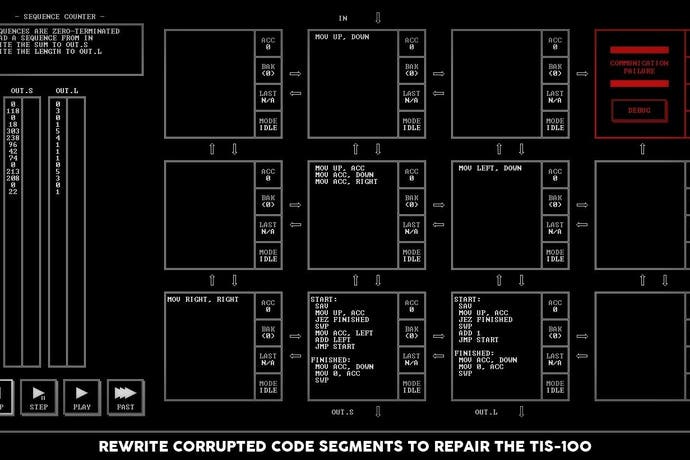 SpaceChem and Infinifactory developer Zachtronics has released its latest project, an "open-ended programming game" called TIS-100, on Steam Early Access.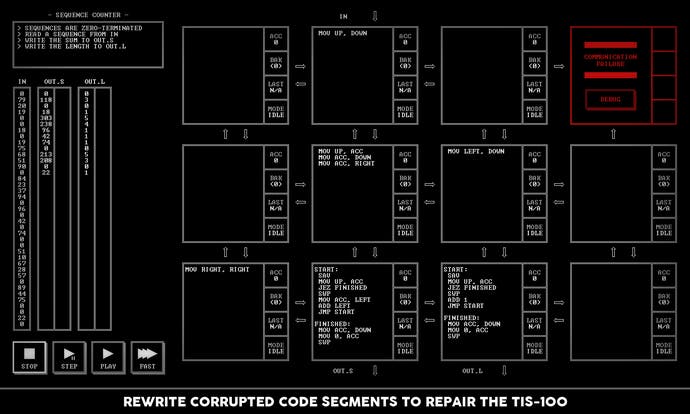 The premise is that players must rewrite the corrupted code of a machine called the TIS-100 (Tessellated Intelligence System) in order to unlock its true purpose and mysterious history. "It's the assembly language programming game you never asked for!" the developer boasted on its Steam page.
The archaic concept requires players to print out the TIS-100 reference manual then solve over 200 puzzles. There's even online leaderboards as players can compete to minimise their cycle, instruction and node counts.
You can even create your own challenges with three sandbox modes that allow you to craft your own games within the game, like a really cryptic LittleBigPlanet.
TIS-100 is currently 10 per cent off and goes for £4.49 / $6.29.
This isn't Zachtronics first brush with Early Access as Infinifactory was on there as well. We considered that one of the best examples of Early Access being done right, so hopefully TIS-100 follows suit.
Our Chris Donlan was very fond of Infinifactory, when he wrote about its Early Access build that seemed feature complete.