Sounds like Capcom will stick to first-person for Resident Evil 8
Shock horror.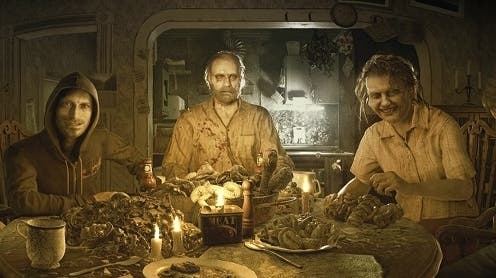 Capcom's unannounced but inevitable Resident Evil 8 will retain the first-person gameplay of predecessor Resident Evil 7, according to a new report on the project from fan site Biohazardcast, via YouTube channel Residence of Evil.
It also tallies with what Eurogamer has heard independently of the game from sources close to publisher Capcom.
Resi 7's first-person viewpoint being kept in Resi 8 is something of a surprise, several years after the former's oddball virtual reality origins. The shift to first-person was a huge departure for the series, and one which Capcom has steered clear of implementing in its recent Resident Evil remakes.
But it also makes sense as a way to clearly delineate the two series branches Capcom is currently developing, as remakes such as Resi 2 and 3 revive the series' origins for nostalgic fans while 7 and 8 offer a more experimental future.
The above report into Resi 8 also mentions the return of Resi 7 protagonist Ethan and classic Resi character Chris Redfield (neither of which will be a surprise to fans). It also suggests we'll see werewolf-like enemies, proper zombies and a female apparition which chases you through castle and village environments.
Capcom is currently working on a bevy of Resident Evil projects - not least the Resident Evil 3 Remake due in April and Resident Evil: Resistance, which will be released as that game's multiplayer portion.
While still a ways from release, it shouldn't come as too much of a surprise Resident Evil 8 (or whatever it ends up being called) is also on that list.
When contacted for this story, Capcom told Eurogamer it did not comment on rumours and speculation.