Souls Survivor
Director Hidetaka Miyazaki discusses the origins and ideology behind From Software's masterpiece.
Human nature, it turns out, was the inspiration. "The origin of that idea is actually due to a personal experience where a car suddenly stopped on a hillside after some heavy snow and started to slip," says Miyazaki. "The car following me also got stuck, and then the one behind it spontaneously bumped into it and started pushing it up the hill... That's it! That's how everyone can get home! Then it was my turn and everyone started pushing my car up the hill, and I managed to get home safely.
"But I couldn't stop the car to say thanks to the people who gave me a shove. I'd have just got stuck again if I'd stopped. On the way back home I wondered whether the last person in the line had made it home, and thought that I would probably never meet the people who had helped me. I thought that maybe if we'd met in another place we'd become friends, or maybe we'd just fight...
"You could probably call it a connection of mutual assistance between transient people. Oddly, that incident will probably linger in my heart for a long time. Simply because it's fleeting, I think it stays with you a lot longer... like the cherry blossoms we Japanese love so much."
It is, indeed, adversity that inspires co-operation in Demon's Souls, a game that doesn't think twice about killing you at a nanosecond's notice in horrible and creative ways. "Because Demon's Souls is a game with a lot of dying in it, surely that kind of fleeting cooperation should come out of all the death - 'We're all dead, so let's help each other out'," suggests Miyazaki.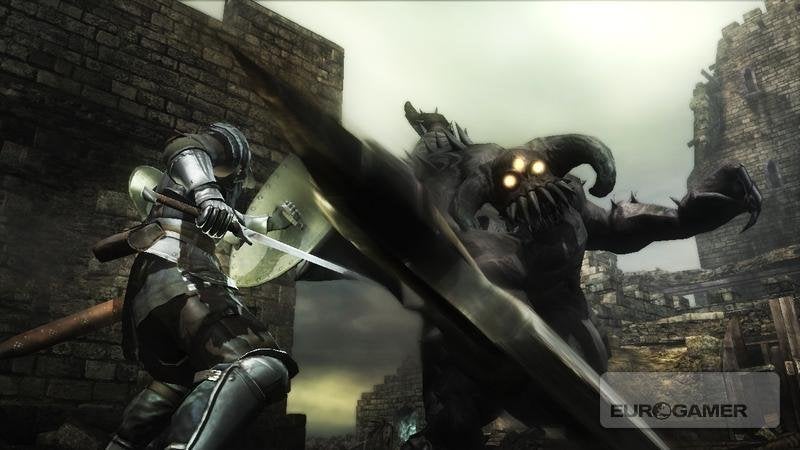 "It's a simple concept. But you don't know whom you will meet. Maybe the next person will be an enemy. That kind of encounter forms part of the larger storyline. There are constant surprises... the blue phantom that's helped you get through an area might, out of nowhere, turn into a black phantom that will kill you just as you're almost clear. Demon's Souls isn't like other RPGs. We've made a different storyline for every player. That's what the network's for; that's what the phantoms are."
"We made a game where rather than [giving players] a simple Game Over, we make them come back to an ephemeral existence as a phantom with less health, and this encourages people to co-operate in multiplayer. A darker existence as a Black Phantom has an even stronger incentive. Because you can both co-operate and aggravate through the unique multiplayer system, even if 100 players are role-playing, they will all have different experiences. Whether you behave as friend or foe is down to a person's character."
The message system, wherein you can leave messages for fellow hapless souls warning of danger ahead or begging for help, is another product of this fascinating multiplayer ideology, creating a sense of community that's both touching and entirely transient. The most you can ever know about a player is their name, should they invade your game as a blue or black phantom; messages, being anonymous, lack even that.
Will you support Eurogamer?
We want to make Eurogamer better, and that means better for our readers - not for algorithms. You can help! Become a supporter of Eurogamer and you can view the site completely ad-free, as well as gaining exclusive access to articles, podcasts and conversations that will bring you closer to the team, the stories, and the games we all love. Subscriptions start at £3.99 / $4.99 per month.