Soul Sacrifice to receive three free DLC packs
Featuring a total of six new bosses and 24 missions.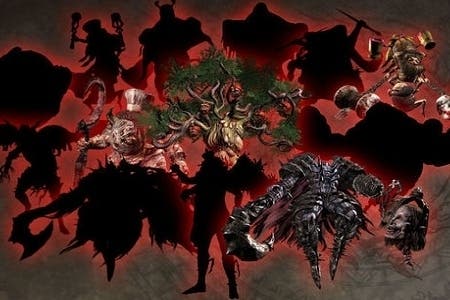 Boss-hunting Vita-exclusive Soul Sacrifice will receive three free pieces of DLC, Sony has announced.
The DLC, detailed by CinemaBlend, was revealed in an e-mail to random PSN users who received the free gift of the Spirits' Falconfeather, a teleporting item. Furthermore, the expansions were later advertised in a poster at GameStop.
The first bit of DLC will be the Headless Knights and Starving Ruin Dwellers pack, due on 28th May. It will include the two titular new bosses, new Berserker magic, eight new missions, and some kind of augmented reality support.
Next up on 11th June is the A Drunk and a Chef pack, adding yet another two bosses and eight new missions.
Finally, the Wild Wheels and Apparition pack will be available on 25th June, featuring - you guessed it - two more bosses and eight new missions.
Judging by the promotional image below, it appears that there will be seven more bosses in addition to the six detailed already. Ostensibly these will be paid DLC, but six new bosses, 24 missions and some new powers aren't bad for free.