Soul Bubbles
Popped in souled out.
Later, the puzzle element of the game starts to come into its own, with swirling wind currents dragging you towards danger, and often prompting you to use previously bothersome 'hazards' to your advantage. Sticky trails might snag you from otherwise certain death; little lizards which drag you into holes can spit you out somewhere otherwise-inaccessible. Light and heavy gas vents enter the equation, giving you an opportunity to create bubbles which manipulate switches and break barriers that block your progress. Much of the game's latter levels become as much about pre-planning, trial and error and exploration as careful shepherding - and that means being able to check out the snaking trails you create with fluid ease.
Although the game allows you to quickly scroll around by touching the edges, it also offers a much slicker means of doing so by allowing you to instantly flip between the game screen and the map screen by holding down on the d-pad. At that point, the map switches to the touch-screen, enabling you, for example, to point to a gas vent instantly, draw a bubble and work your way down to where your spirit bubbles are hanging out. It's a system that works exceptionally well, and also gives you a chance to quickly go back over old ground in case you missed any Calabash on your way.
That said, as previously mentioned the game does take a while to get into its stride. For the first three or four worlds, there's no real sense that it's doing much to challenge you, and as soothing and pleasantly diverting as it feels to chip away at, it takes a good few hours before you find yourself having to really take your time. Beyond the rather perfunctory introduction though, it starts to come into its own, as more ambitious and more challenging level design starts to test your abilities to cope under pressure as your precious souls start coming under more frequent attack from more enemies. No longer will it be good enough to just swat things away. More often, the puzzles and hazards come hand it hand. Finding Calabash becomes increasingly fiendish, and getting to the level exit more of an achievement in itself.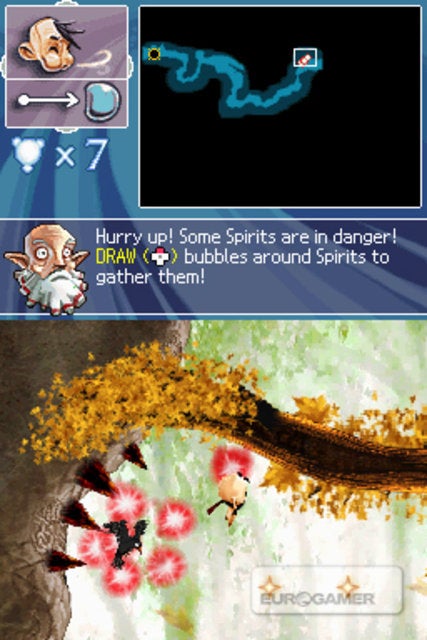 By the time you've sweated your way to the eighth world, the game really pulls no punches, delivering the kind of brutal challenge you expected all along. Occasionally it can even feel quite frustrating, but only ever in the sense that makes you want to come back for more. As a bite-sized commuter-friendly game, this fits the bill perfectly, with levels rarely extending beyond the 15-minute mark. Just when you might feel like you've had enough, it's either onto the next level, or a game you'll feel happy putting to one side for a while. If there's one slight criticism, it's that it's not a game that lends itself to extended play - a bit of an issue for reviewing purposes, but absolutely on the button as far as handheld, real-world play goes.
One facet of the game which is impossible to overlook are its visual charms. As far as DS titles go, this is up there with the very best, with a succession of beautifully rendered levels, which go some way towards keeping you going. Although it shares that same spongey organic, physical feel as LocoRoco, it's a world away it terms of its art style, and perhaps more along the same lines as the bright, stylised charm seen in WiiWare title LostWinds. And let's not forget the technical feat of being able to create a game which, ultimately, is a set of engaging, well-presented physics puzzles. With all this, Soul Bubbles definitely has enough distinct charm to override the inevitable LocoRoco comparisons, with a superb control system and delightful art style carrying you through for the entire game. Were it not for the slow start, it might have left a deeper impression sooner, but some wonderful level design and smart ideas later on eventually deliver on its obvious promise.
Will you support Eurogamer?
We want to make Eurogamer better, and that means better for our readers - not for algorithms. You can help! Become a supporter of Eurogamer and you can view the site completely ad-free, as well as gaining exclusive access to articles, podcasts and conversations that will bring you closer to the team, the stories, and the games we all love. Subscriptions start at £3.99 / $4.99 per month.