Sony exploring ways to let PS5 users store PS5 games on a USB drive in a future update
Future perfect.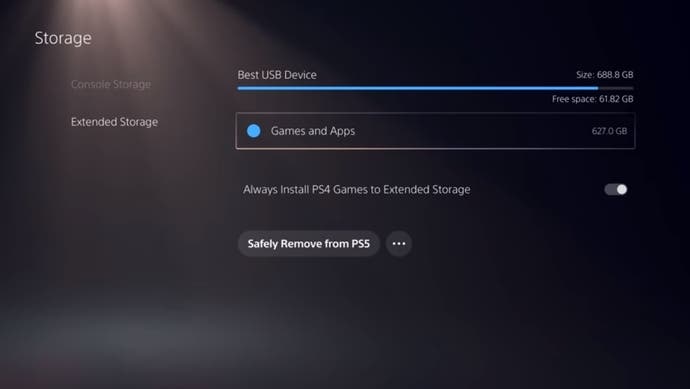 Sony is exploring ways to let PlayStation 5 users store PS5 games on a USB drive in a future update.
But, it is not actively looking to let PS5 users play PS5 games from a USB drive.
The comment comes from a PS5 FAQ posted to the PlayStation Blog.
As Digital Foundry reported over the weekend, right now, there is no way of copying PS5 games away from the main system storage, presenting problems when the SSD is full. PS5 has 667GB of available storage.
The only way to install new games is to delete old ones, meaning that to play them again you'll need to re-download them - deleting other installed PS5 games in the process. PlayStation 4 games installed to PS5 are not affected - these can be moved off to external USB storage.
Sony confirmed this in its FAQ published today:
Can I store or play PS5 games from a USB drive?
"No, players cannot transfer PS5 games to a USB drive. PS5 games must be stored on the console's internal ultra-high speed SSD for gameplay," Sony said.
"Explorations for allowing players to store (but not play) PS5 games on a USB drive in a future update are underway.
"You can, however, store and play PS4 games from a compatible USB drive connected to PS5."
Sony recommends using a SuperSpeed USB or faster (USB 3.0 or later) storage drive with 250GB minimum and 8TB maximum capacity, formatted for exFAT (note: PS5 can format a connected compatible USB drive for exFAT). Devices with a faster specification may result in shorter load times for PS4 games stored on the drive, Sony added.
Sony encouraged PS5 users to play PS4 games on the console via a USB drive to save space.
"We recommend doing this to save space on the internal console storage for PS5 games, which can't be played off an extended storage drive," Sony said.
Players can also set a system preference on PS5 that will, by default, install all PS4 games (including digital purchases from PlayStation Store, and game data from Blu-ray discs) and future game patches directly to a connected USB drive.
Other tidbits from the PS5 FAQ:
Future firmware upgrades will make the PS5 capable of outputting resolutions up to 8K.
Downloading and applying game software updates on PS5 should work more quickly than on the PS4 console in general, as the data size of updates and patches is managed more "effectively".
PlayStation Now is available on PS5, both for streaming and downloading of supported games.
All PlayStation Plus members will continue to receive at least two PS4 games each month. "It is our goal to add PS5 games regularly to the monthly games lineup," Sony added.
PS5 games will be region free, so you can play games from other countries.