Sony details May PlayStation Plus content
Awesomenauts and Max Payne for free, Binary Domain discounted.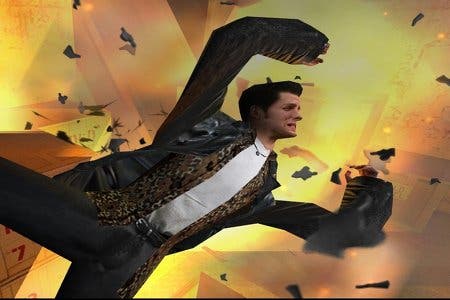 Free downloads of side-scrolling arena dust-up Awesomenauts and PlayStation 2 classic Max Payne headline May's PlayStation Plus content.
Subscribers to Sony's premium service can download both Remedy's original Payne romp and Ronimo's colourful follow-up to highly-regarded RTS Swords & Soldiers from 2nd May.
You can also grab eight casual titles from developer Tik Games free of charge until 4th July, including Hamsterball and Mushroom Wars.
On top of that lot, there are also a number of discounts on offer, including 30 per cent off Call of Juarez: Bound in Blood and an as-yet undefined saving on Sega's rather excellent sci-fi shooter Binary Domain.
See below for a full list of what's up for grabs, as posted on the PlayStation Blog:
PS3 games:
Awesomenauts - 100 per cent off (save £7.99/€9.99)
Hamsterball - 100 per cent off until 4th July (save £7.99/€9.99)
Wakeboarding HD - 100 per cent off until 4th July (save £11.99/€14.99)
Mahjong Tales: Ancient Wisdom - 100 per cent off until 4th July (save £7.99/€9.99)
Sky Fighter - 100 per cent off until 4th July (save £7.99/€9.99)
Ricochet HD - 100 per cent off until 4th July (save £3.19/€3.99)
Mushroom Wars - 100 per cent off until 4th July (save £7.99/€9.99)
Magic Orbz - 100 per cent off until 4th July (save £7.99/€9.99)
Smash Cars - 100 per cent off until 4th July (save £11.99/€14.99)
Classics:
Silent Hill (PSone Classic) - 100 per cent off until 9th May (save £5.49/€6.99)
Max Payne (PS2 Classic) - 100 per cent off (save £7.99/€9.99)
Minis:
Velocity - 100 per cent off and two weeks exclusively for PS Plus (save £2.49/€2.99)
LA Gridlock (minis) - 100 per cent off (save £1.74/€1.99)
Full game trials:
Assassin's Creed: Revelations
Rayman: Origins
Driver: San Francisco
Borderlands
Red Dead Redemption
Episodes from Liberty City
GTA IV
Bioshock 2
Mafia 2
House of the Dead: Overkill
Sonic Generations
Medieval Moves
inFamous 2
PlayStation Move Heroes
Sports Champions
Red Faction: Armageddon
Darksiders
Exclusive discounts:
Zack Zero - 50 per cent off (save £3.99/€4.99)
James Cameron's Avatar: The Game - 30 per cent off (save £5.00/€6.00)
Call of Juarez: Bound in Blood - 30 per cent off (save £5.00/€6.00)
Themes and avatars:
Mad Riders Plus-Exclusive Dynamic Theme - 100 per cent off (save £1.59/€1.99)
OddWorld Plus-Exclusive Dynamic Theme - 100 per cent off (save £1.59/€1.99)
Five Plus-Exclusive Avatars: Koala, Snake, Bunny, Frog and Chimp (save £0.21/€0.25 per avatar)
Still to come later in May:
Datura - Launch discount
Binary Domain - Launch discount
Mad Riders - Free day-one DLC pack available at launch