Sonic & All-Stars Racing Transformed trailer debuts actual NASCAR driver in the game
Danica Patrick and Sonic don't quite share that Tyson/Mario chemistry.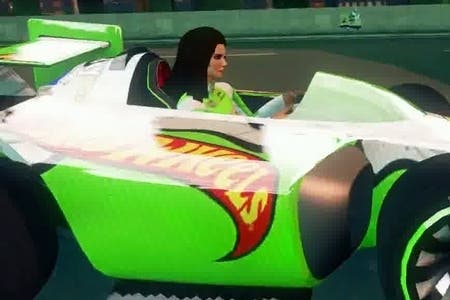 It was announced awhile back that Sega would be bringing actual NASCAR star Danica Patrick on board as a playable character in Sonic & All-Stars Racing Transformed, but now we can actually see what it looks like when the "fastest female driver" occupies the same space as a blue hedgehog and flying fox.
Her distinctly human appearance stands out even worse than that time BioWare put Jessica Chobot into Mass Effect 3, and I'm not sure Patrick's presence can be as easily dismissed as I'm assuming she'll be cruising around as an NPC even if you don't play as her.
Equally distracting is her Hot Wheels branded vehicle that offers the most forced product placement since Snake donned an Axe deodorant shirt in Metal Gear Solid: Peace Walker.
Curiously, the same athlete meets videogame mascot combination worked wonders in Mike Tyson's Punch-Out!! where the famed badboy of boxing shared some screen time with Mario, who inexplicably moonlit as a referee.