Someone should make a game about: Spomeniks
Monumental mysteries.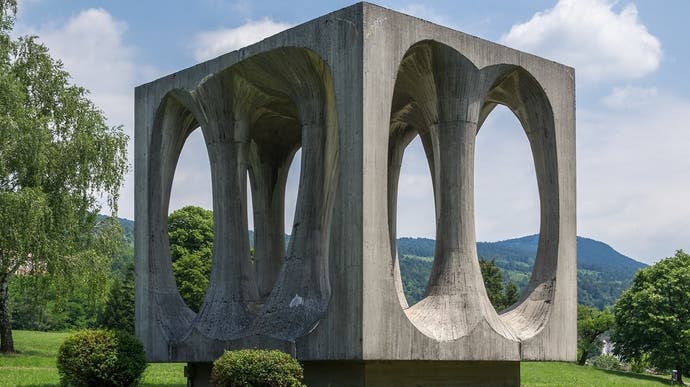 Hello, and welcome to our new series which picks out interesting things that we'd love someone to make a game about.
This isn't a chance for us to pretend we're game designers, more an opportunity to celebrate the range of subjects games can tackle and the sorts of things that seem filled with glorious gamey promise.
Check out our 'Someone should make a game about' archive for all our pieces so far.
---
Like most people, my first encounter with a spomenik was whilst flicking through photographs on the internet. They're essentially large sculptures made of concrete, marble and steel. They're also these spectacular, strange, and relatively unknown works of art. Sat alone on some rugged Balkan hillside, they stand out, their massive abstract forms evoking the same kind of otherworldly energy as an alien monolith or a touched-down UFO.
The Andrijevica monument in Montenegro looks like some kind of bladed TIE fighter spaceship - or the jagged tines of an ancient crown. The six prongs actually represent the constituent republics of former Yugoslavia: Bosnia and Herzegovina, Croatia, Macedonia, Montenegro, Serbia, and Slovenia. A similar spomenik in Kosmaj, Serbia, has five fins that represent the points on the Communist star. The Monument on Freedom Hill in Slovenia is equally striking. A giant concrete cube with a hollowed center, the shape of the structure evokes the region's famous local cave systems, whilst the fluted columns within represent the bones of the soldiers who fell liberating the area from Nazis. Several powerful spomeniks designed by the sculptor Miodrag Živković mark other battle sites with great "wings of victory" or rocky formations that seem to valiantly burst from the ground.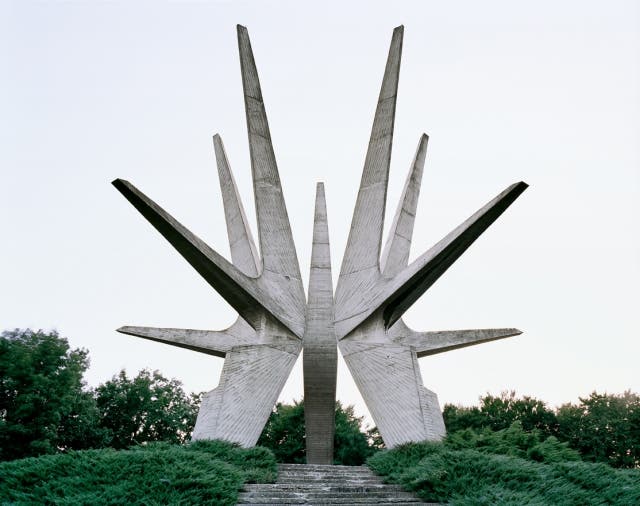 These spomeniks - which translates as memorial - number in the thousands. They dot the landscapes of former Yugoslavia, ruined reminders of both the bitter liberational war fought against the Axis powers in World War 2, as well as the ideology of "Brotherhood and Unity" that came to characterise the newly formed socialist republic. Whilst each spomenik was local and unique, marking specific tragedies and feats of resistance, the vast array of sculptures, built over many decades, also came to symbolise a unified Yugoslavia. Whilst there was plenty of artistic variation - particularly when compared to the decreed socialist realism of the USSR - and little state control over what forms the monuments took, they increasingly became an important part of the national narrative. Children would cram into buses and head out into the countryside on school trips to visit the memorial sites and pay tribute and sing revolutionary songs.
After the dissolution of Yugoslavia, perceptions of spomeniks inevitably shifted. For some newly independent nations, the sculptures and what they represented were a painful reminder of the past. Over 3000 monuments were damaged or destroyed. This is the state of the spomenik today, in many cases abandoned, decayed, vandalised, stripped for parts and graffitied. In some ways this has only added to their allure. Video games in particular seem slightly obsessed with ruins and abandoned places - great for "environmental storytelling" or injecting a bit of historicity into something fundamentally fabricated.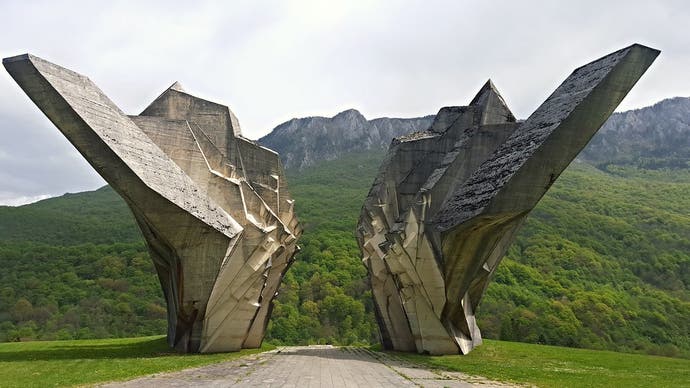 I think it's easy to imagine some quiet open-world experience where the sublime designs of the spomenik make for alluring landmarks - I'd certainly prefer to reveal more of the map by scaling one, as opposed to a simple tower. Of course I'd love to see games about actual spomeniks and the real conflicts they memorialise - there certainly aren't enough games that take place in Eastern Europe, outside of Chernobyl. But I'd be equally happy to just see more abstract, monumental architecture.
And perhaps most interesting of all would be some kind of engagement with how violence can become imprinted on an environment. I'm thinking of a more extensive, more specific, variation on the Souls series' blood stains, or the "voidout" craters in Death Stranding. Monuments record our past actions, and so these brilliant monuments could help add a sense of permanence to the virtual worlds we wander.