Shovel Knight's Wii U and 3DS-exclusive multiplayer features detailed
Leave messages and engage in asynchronous battles.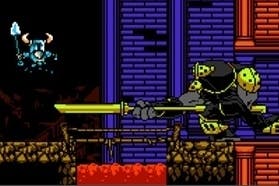 Yacht Club Games' retro platformer Shovel Knight is going to have a couple of unique multiplayer features exclusive to its Nintendo platforms.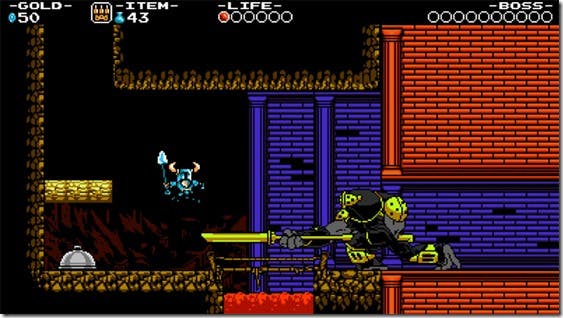 As detailed by Polygon, the Wii U version of the platformer will allow players to leave hints and pictures for one another on the GamePad, a bit like the crowdsourced message system in Dark Souls.
"The cool part is that it's room-based," Yacht Club founder Sean Velasco explained. "Every time there's a room where you don't know what to do, or if you just want some more information, you can tap on this diary. Leave a message for other players or get a message yourself. Or maybe learn a little more the same way you would trade secrets on the school ground."
The 3DS-exclusive features are a bit stranger, with a bizarre mix of turn-based and real-time combat as players compete against one-another asynchronously via StreetPass. Players will record five-second clips of themselves attacking their opponent and gathering gems in an enclosed arena, and when they go near someone with SteetPass the recorded battles will play out in real-time. Players will then be able to see how their recorded play went and revise their strategy between bouts. If they emerge victorious, they'll receive gold.
"We've done it, and it's just ridiculous," Velasco told Polygon. "There are some goals that you're all going for, but you don't know what the other player is doing. You don't know which gem they're going to go for first. You don't know if they're going to use a weapon... It's just craziness because you do it in these little five second rounds, and you do three rounds over and over. And then it's just done."
It sounds interesting at any rate. Shovel Knight was a Kickstarter success last year and it's due out on 31st March on PC, Mac, Linux, Wii U and 3DS.