Shoot Many Robots release date, price details
May help mech up your mind.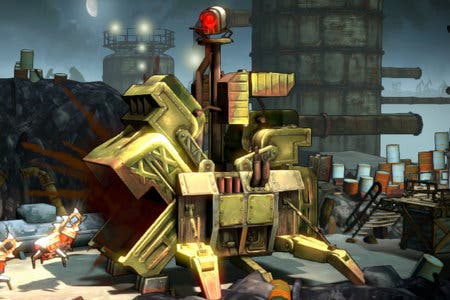 Cel-shaded side-scroller Shoot Many Robots will be released for PlayStation Network on 13th March and a day later on Xbox Live Arcade, publisher Ubisoft has announced.
It'll cost £7.99 on PS3, or 800 Microsoft Points on Xbox 360.
Launch plans for the game's PC version remain under wraps, however.
Developer Demiurge has been working on Shoot Many Robots for several years, evidenced in a new developer diary below which details a number of different game concepts.
Shoot Many Robots is Demiurge's first original game following years of work helping some of the industry's biggest players. The company was responsible for the PC ports of Mass Effect and BioShock, contributed to Borderlands and worked on several titles in the Rock Band franchise.
The co-op shooter pits players against mutated forms of mechanical hardware, such as chainsaws with legs. Refresh your memory of how it looks in video form below.