Sherlock Holmes: The Devil's Daughter release date set for May
Hell of a case.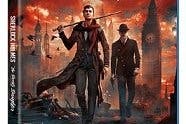 Sherlock Holmes: The Devil's Daughter is coming to PS4, Xbox One and PC on 27th May, publisher Bigben Interactive has announced.
Frogwares' eighth game in the mystery series casts players as the world's greatest detective that isn't Batman as he scrutinises the back alleys of London in search of clues to solve five cases.
"For the first time, the powers of analysis and composure of Sherlock Holmes will be shaken by emotion as he is caught between family, dark forces and powerful thirsts for vengeance," the publisher teased of this upcoming entry.
Eurogamer contributor Stace Harmon called Frogwares' previous outing, 2014's Sherlock Holmes: Crimes and Punishments, "a largely entertaining and involving detective game" in his generally positive review.