"She can't understand how someone she's never met would be so kind"
The gaming forum that put aside squabbles to help an injured little girl.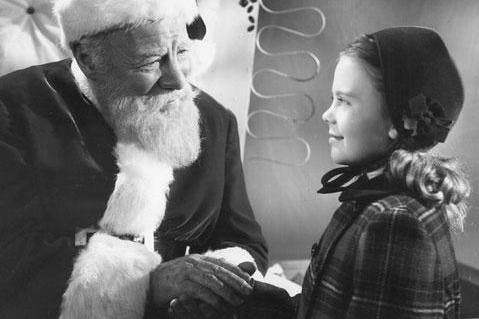 Three weeks ago eight-year-old Olivia was waiting in a corridor at dance class where she was preparing for a big Christmas show. In the corridor was a wheelie table with a hot water urn on. Two girls sat on the table - and it collapsed. The urn tumbled, spilling scalding water over Olivia's legs and feet, causing second-degree burns.
After Olivia was treated at hospital, stepfather Adam Graham sought advice. Why had the urn been there and the children unsupervised around it? Why had the teacher gone against burn guidelines and applied cream? Not knowing where to turn next, Adam Graham turned to rllmuk, a large UK gaming forum he belonged to (you need to be a member to see his post but I have, with his permission, included a screenshot here). Graham didn't expect what came next.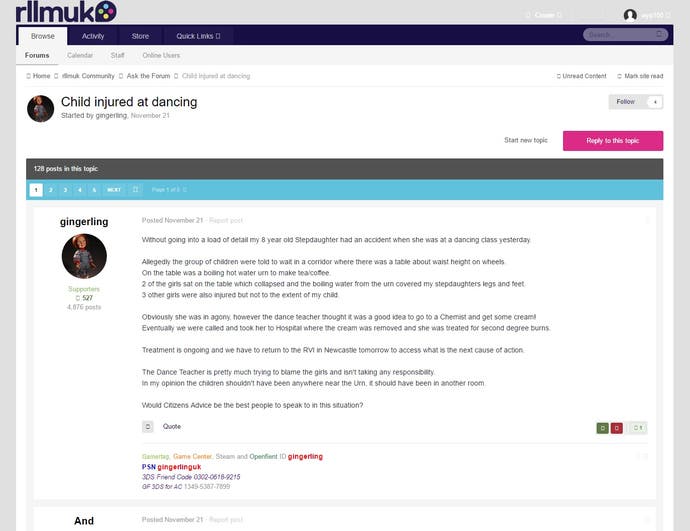 Amid the shared anger, sympathy and support was a woman who wanted to send some books to cheer Olivia up, Adam Graham told me, so he gave her his address.
"I didn't say anything until the first package came," Graham said. "Olivia rung me at work and said someone who she's never met had sent some books. I tried to explain it's from that website I'm always on. She said she can't understand how someone she's never met would be so kind."
Her generosity caught on and soon Graham was asked by another rllmuk member, Darren, for approval on a Christmas appeal for Olivia. Permission granted, Darren wrote:
"I thought it would be nice if we came together as a community, put aside all our petty squabbles and sarcasm, and sent [Olivia] lots of little gifts, as if we were overcome with the true spirit of Christmas...
"Imagine how much it will cheer her up if every day the postman brings her a few more mystery packages from complete strangers, full of goodies and good wishes. It won't take away the crutches or the second-degree burns but I think we can make them a little bit more bearable for a while."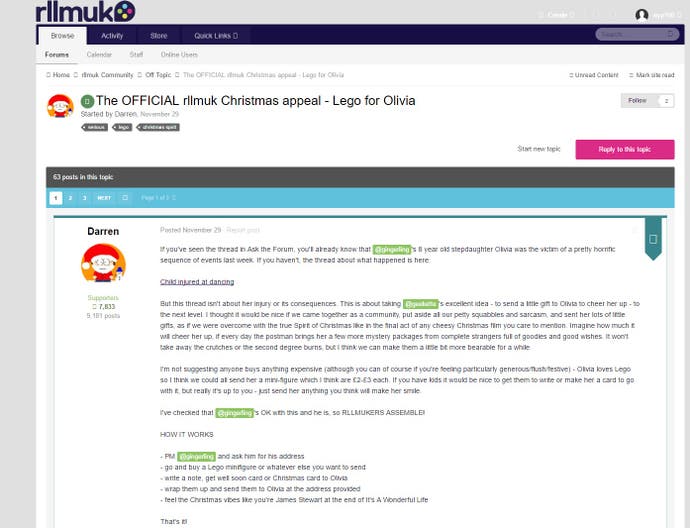 In the week since the appeal around 15 packages have arrived, Graham said, from 30 people who asked for his address. "That strangers would do this for a child they've never met is unbelievable."
Gifts range from the Lego Minifigures, which the rllmuk appeal suggested, to small Lego sets and big bags of bitty Lego passed from one family to another. Olivia likes Lego, you see.
"At the times the presents came through she was still quite poorly," he said, and sad she couldn't perform at the Sunderland Empire Theatre with her friends. "When the first package came she was over the moon. She was flabbergasted.
"My son said he wish he'd been hurt," he laughed. "It's just... it's lifted everybody's mood to be honest. I was a bit overwhelmed."
Drawing attention to the kindness of those strangers on rllmuk is Adam Graham's way of saying an extra thank you. You picked him and his family up at a tough time, rekindled their Christmas spirit - and mine. So well done one and all; what you're doing is lovely. Let you be a lesson to us all.
Wishing Olivia a speedy recovery and Merry Christmas,
Eurogamer.