Shadow of the Colossus, Sonic Forces are March's PlayStation Plus games
Ueda for this?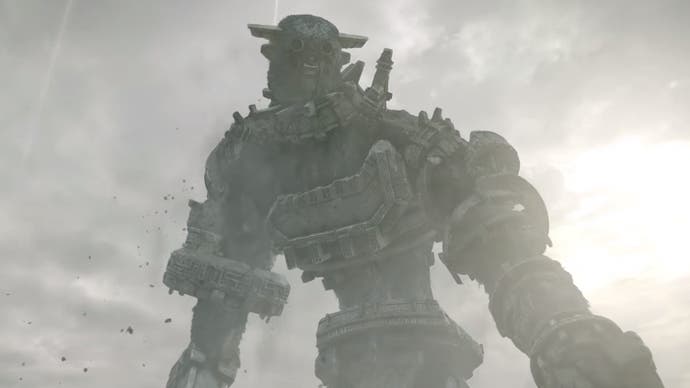 As February readies to make the transition from present to past, Sony has revealed that its Shadow of the Colossus PlayStation 4 remake and Sonic Forces will be available to download as part of PlayStation Plus in March.
Shadow of the Colossus needs little introduction, of course; originally released for PS2 in 2005, it's the second game from Ico and The Last Guardian creator Fumito Ueda.
It's an absolute masterpiece, telling the haunting tale of a young man who travels to a mysterious land to save his dying love. In order to do so, players must explore the game's beautifully desolate, melancholy world in order to seek out and defeat 16 mythical beasts known as the colossi, with victory over each requiring both platforming prowess and cunning.
"Shadow of the Colossus is such a sad, beautiful, thrilling game," wrote Eurogamer's Oli Welsh of Bluepoint's impressive PS4 remake in 2018, "It's so bold in its austerity; compared to the frantic busywork of today's games, its sheer emptiness comes as a relief. So does its rejection of the triumphalism and moral certainty that underwrite virtually every other action game. It's a classic, and it's a privilege to play it in this stunning new form."
As for Sonic Forces, it's something less of a masterpiece. Once again, Sonic Team attempts to blend 3D platform action with the 2D side-scrolling of the hedgehog's hey day - but the result is considerably messier than the similar, but more enjoyable Sonic Generations. "Though not without its moments," said Eurogamer contributor Edwin Evans-Thirwell in his 2017 review, "Forces is a depressing return to form for Sonic the Hedgehog after the joys of Mania."
PlayStation Plus subscribers will be able to download Shadow of the Colossus and Sonic Forces from Tuesday, 3rd March, until Monday, 6th April.