FIFA 20 nailed Sergio Agüero's shock at missing a sitter
Kun you believe it?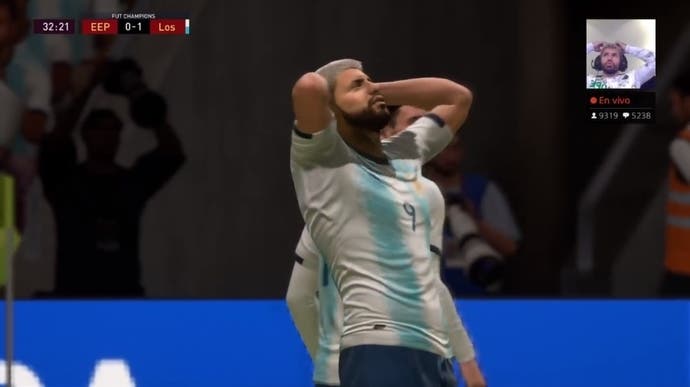 Say what you will about FIFA 20, but EA Sports nailed Sergio Agüero's shock at missing a sitter.
The Manchester City striker is spending a lot of time playing FIFA 20 during the coronavirus lockdown, and he's streaming himself on Twitch.
While playing FIFA Ultimate Team mode FUT Champions yesterday, Agüero found himself - literally - through on goal and one-on-one with the keeper. Now, as any Premier League fan knows, this sort of situation usually results in one thing: a goal. But that's in real-life. In FIFA 20, Agüero missed.
The Argentina international put his pad down and placed his hands on his head in shock - just as the in-game camera cut to his video game recreation doing the same thing. The "noooooo" is quite cute, too.
As you'd expect, Agüero's FUT team wears the Argentina kit and includes mostly Argentine players (Agüero scored with Messi early on, which is quite the sentence). But despite Agüero's amazing FUT team, he went on to lose the match 4-3. Clearly upset with himself and... himself, he dropped his 89-rated card for the 94-rated icon Brazilian Ronaldo. Savage.
You can watch the match in full in the video below:
Loads of professional footballers have been getting stuck into FIFA during the lockdown, of course, with a raft of tournaments held to encourage people to stay at home and to raise money for the NHS. Agüero, though, looks like he's big into FIFA anyway - and he's not afraid to drop himself to win.