Sekiro Gyoubu Oniwa fight - how to beat and kill the horse boss Gyoubu
How to beat the boss Gyoubu Oniwa in Sekiro: Shadows Die Twice.
Gyoubu Oniwa is the next boss and first proper, proper main boss in Sekiro: Shadows Die Twice, found in the game's Ashina Castle Gate area, following on from General Tenzen Yamauchi in our walkthrough of the game's bosses and mini-bosses.
You'll find Gyoubu Oniwa waiting for you in the large, expansive battlefield you eventually encounter after sneaking past the Great Serpent for the first time and picking off a small handful of guards.
Below, we'll cover how to beat and kill Sekiro's Gyoubu Oniwa, including any particularly strong methods or weaknesses they might have and any handy things to bear in mind.
For more guides and pages like this, meanwhile, cycle back to our main Sekiro walkthrough and boss guide hub.
Sekiro Gyoubu Oniwa fight - how to beat and kill the horse boss Gyoubu
Gyoubu is one of those bosses that you'll either have major trouble with, or it'll just click, and you'll sail through the battle with (relative) ease.
How to beat Gyoubu Oniwa, the horse boss
One of the keys to defeating Gyoubu easily is the Grappling Hook Attack skill - more on that in our Sekiro Best Skills guide, but essentially this lets you grapple to an enemy from some considerable distance at certain points during the fight.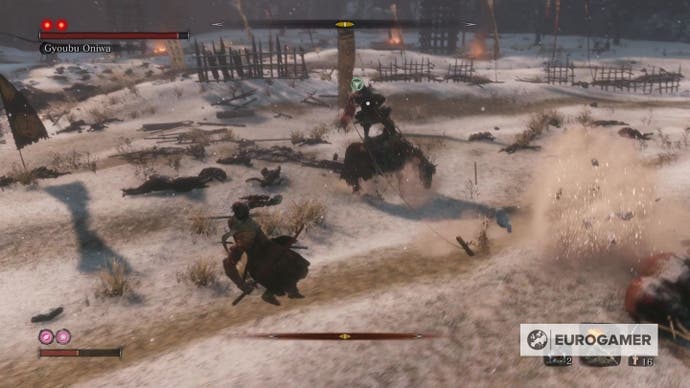 A green triangular symbol will appear over Gyoubu's head when you can do it, tap L2/LT and you'll go flying towards him, and be able to get one or two hits off in mid air and one or two when you land, as well.
---
Looking for more Sekiro pages like this? First up, the first main Sekiro patch notes for update 1.03 are live. Otherwise, our Sekiro boss guide, boss list and walkthrough hub has everything in one place, including pages on Lady Butterfly, Genichiro Ashina Way of Tomoe, Folding Screen Monkeys, Corrupted Monk, Guardian Ape, Great Shinobi Owl, Emma and Isshin Ashina, True Corrupted Monk, and Divine Dragon. We also have in-depth pages like Sekiro tips and tricks to get you started, Sekiro Skills, skill tree and Esoteric Text locations explained, our deep dive on the Sekiro combat system, Posture, and Perilous Attacks, or details on all Sekiro Prosthetic Tool locations, how to cure Dragonrot and Rot Essence in Sekiro, Gourd Seed locations, a Divine Confetti farm route method, all Treasure Carp Scale locations, all, Prayer Beads locations and all Snap Seed locations, too. And when you're ready - the how to beat Isshin Sword Saint and an Isshin Sword Saint cheese, plus the many Sekiro endings.
---
Do that at every opportunity and you'll be off to a great start already. We found it appeared at two specific times: after he throws his spear at you in a Thrust-like Perilous Attack, which is easily evaded if you keep your distance; and when he throws his spear out and spins it around him on a string in a circle. With the second one we found it best to try and pull this off instantly, otherwise it's hard (if not impossible) to do during the actual move and you're better off just backing away.
The rest of it is about having good timing for just one, solid deflection, and dodging the rest. Gyoubu will charge at you every time he's at a distance, and take one big swing with his spear. Deflect that for some easy Posture damage, and then back away (remember you can hold the dodge button to sprint and move very quickly to reposition).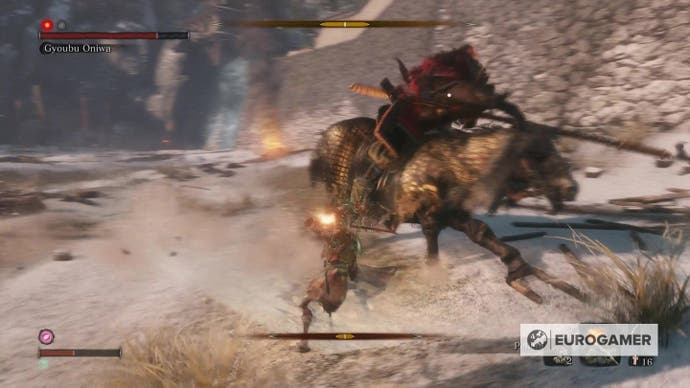 He'll take a few more swings in a big flurry, but you should be able to easily avoid all of them simply by moving away faster than he can turn to hit you.
That, effectively, is all there is to it. Deflect his single charge attack, drop back, fly in and hit him when the green icon appears for a Grapple attack, and repeat - it's fairly slow, but his Vitality will be lowered each time you land those few hits on the grapple, and so his Posture will recover far slower as a result.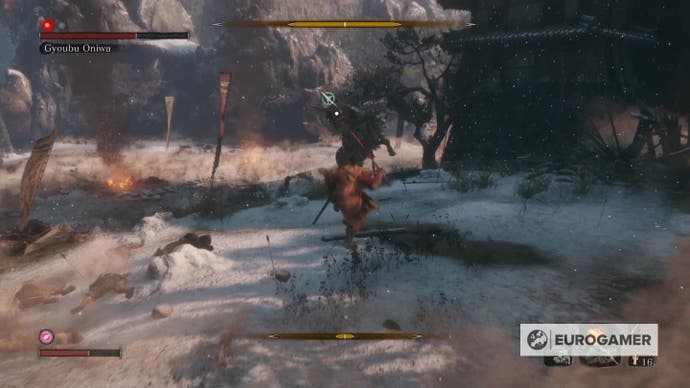 That's all you'll hopefully need for tackling this encounter. Next up in our guide is Blazing Bull, or you can cycle back to our main Sekiro walkthrough and boss guide hub for much more bosses, explainers and advice.