Sega just teased a new Daytona USA for the arcade
UPDATE: First gameplay footage is in. Looks like Daytona. That's a good thing.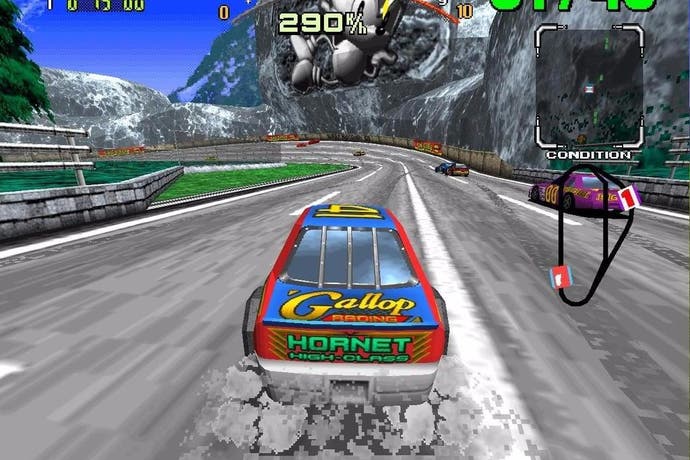 UPDATE#2: And we've just been treated to our first proper look at Daytona 3 in action. As promised, it's very much a return to the 1994 original, with familiar looking locations and updated car models more in line with modern NASCAR rides. A whittled-down version of Daytona 3 Championship USA is being shown at IAAPA at present, and Arcade Heroes has some further impressions, noting that it's running on PC hardware and the gateshift of the older cabinet has been replaced by what looks like a sequential shifter - though this is still a pre-production cabinet so that could well change.
UPDATE: It's true. All of it. Daytona 3 Championship USA has been confirmed by Sega, with three new tracks joining a revamped recreation of the Daytona International Speedway in a game that's taking its cues from the 1994 original. Up to eight players can link up in the arcade only outing, and a Live TV feature lets bystanders witness key moments in races as they happen.
"This is a game changer," said Patrick Michael, Sega Amusement's head of local R&D. "This is a premium game that delivers on quality, player experience and operator features that sets a very high bar for arcade video racing games. Importantly we have based it on the original game engine that gave us the amazing 'AI' and 'catch up' feeling that we all grew to love."
ORIGINAL STORY: Pinch me, I must be dreaming. Sega just teased a new Daytona USA, with Sega Amusements - the UK-based arcade division - posting a short video that announced the game's appearance at a trade show in a couple of weeks. It's an announcement from leftfield, to say the least.
Sega Amusements typically plies its trade in redemption machines, and with considerable success. I caught up with them a couple of years ago and found a company that was keeping the company values alive, even if its games were far removed from those typically associated with Sega's 90s arcade heyday.
Daytona USA's last big release was the HD remake that came to consoles in 2011. I should have given it a 10/10 back in the days when we still used to put numbers on the end of reviews. Just prior to that release, Daytona USA did make an arcade appearance with Sega Racing Classic in 2009 - a cabinet that took the 1994 classic and gave it an HD makeover, while losing references to the motor speedway as Sega had presumably lost the license at the time. The short-lived Sega Racing Studio was also at one time working on a Daytona sequel before it was closed down.
So what shape will this new game take? Frankly I have no idea, but I can't wait to find out.