Sega confirms Sonic Colors Ultimate plus a retro Sonic compilation for next year
And Sonic's next game gets a tiny tease.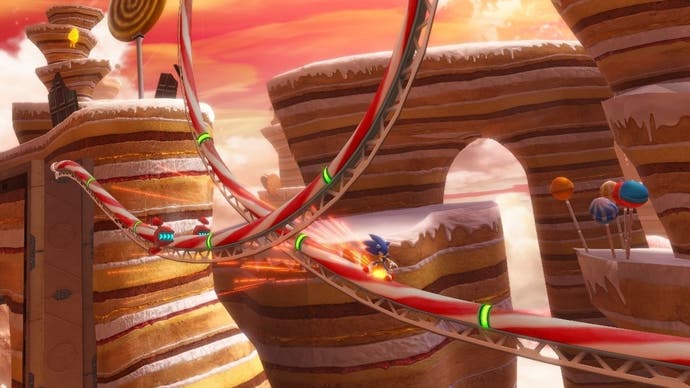 Sonic's 30th anniversary livestream has come and gone, leaving a big blue streak in its wake, and while it wasn't perhaps the most revelatory of showings, Sega did at least confirm the previously rumoured Sonic Colors remaster and retro Sonic collection - as well as providing the tiniest teases of Sonic's next major game.
Starting with the remaster, it's called Sonic Colors Ultimate and will be heading to PlayStation, Xbox, Switch, and PC (exclusively via the Epic Games Store) on 7th September this year.
As those who've played the 2010 original will know, Sonic Colors transports the iconic mascot to Dr. Robotnik's interstellar theme park for a familiar blend of appropriately high-speed into-the-screen and side-on platforming, with the hedgehog able to access handy new skills, such as a speed boost or the ability to drill underground, thanks to friendly Wisps.
Sonic Colors Ultimate is being handled by Blind Squirrel Entertainment, which recently worked on BioWare's Mass Effect Legendary Edition, and promises upscaled visuals (4K on PlayStation and Xbox), gameplay upgrades, refined controls, plus a new Rival Rush mode, pitting Sonic against Metal Sonic to unlock rewards.
It'll be preceded this "summer" by a two-part animated short, titled Sonic Colors: Rise of the Wisps, tying into the game's lore. Roger Craig Smith, newly reinstated as the voice of Sonic, will star and there's a brief clip in the livestream if you want to see more.
As for Sonic's new retro compilation, it's called Sonic Origins and will include Sonic the Hedgehog 1, 2, and 3, Sonic & Knuckles, plus Sonic CD. Sega says to expect "added content and features" with more information due to be shared later this year.
Sega also made a number of smaller-scale announcements as part of its 30th anniversary livestream - including merchandise news, free Sonic-themed cosmetics for Two Point Hospital on 22nd June, plus the addition of a Sonic: The Fighters arcade cabinet in Yakuza spin-off Lost Judgment on 24th September - and the whole thing came to a close with one last tease.
It's for Sonic Team's next big (untitled) Sonic game - coming to Switch, PlayStation, Xbox, and PC in 2022 - but the brisk accompanying trailer didn't show anything beyond the hedgehog running through a forest, so we'll need to wait for additional details before we know more.