Sea of Thieves is getting custom servers in the "near future"
But only for select creators and community groups initially.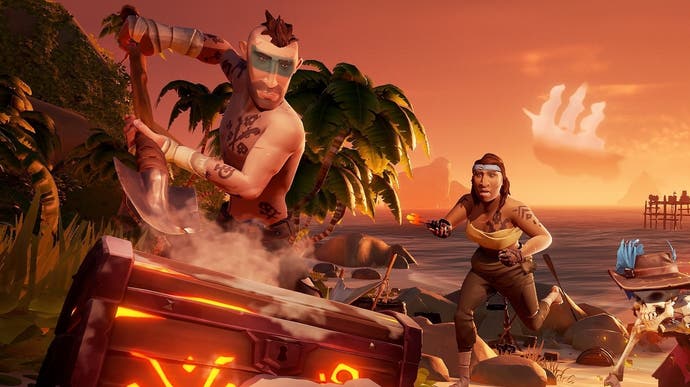 Piratical multiplayer adventure Sea of Thieves will finally be introducing much-requested custom servers in the "near future", albeit initially only for a select number of creators and community groups while the feature remains in Alpha.
Custom servers that enable pirates to adventure away from the cutthroat PvP antics of other players have long been a popular request within portions of the Sea of Thieves community, and developer Rare has previously acknowledged it would explore the feature.
In their initial guise, however, custom servers will only be available to the aforementioned creators and community groups and in relatively limited form. The goal of this initial Alpha phase, explains Rare, is to provide select partners with a way to "use our sandbox to create unique experiences for their communities" and will offer swift access to custom servers, an ability to run custom events, and a way to invite community members to take part.
With those early goals in mind, custom servers will initially enable players to customise ship numbers and types prior to beginning a session, and will generate code that can be distributed so that community members can join that server. Notably, gold and reputation progression will not be possible on custom servers.
Custom servers will be presented to Sea of Thieves' opt-in Insiders testing group at first, before being rolled out to creators and community groups in what Rare expects to be a "lengthy" Alpha phase. "We see a bright future for custom servers in Sea of Thieves," the developer explains in a new blog post, "but we want to start purposefully with the dual purpose of learning from this initially small audience and expanding the custom server toolset before we think about rolling out more widely and what that will entail."
Notably, Rare says that when custom servers - which it notes "cost money to run" - are eventually rolled out to a wider audience, it will likely be as an optional feature that players can access from Sea of Thieves' real-money Pirate Emporium. "We want to learn more about the desired feature set, usage and cost before deciding exactly how to make this something the wider community can access," it concludes.