Sea of Thieves' Final Beta is here, open to everyone on Xbox One and PC
Adds Merchant Guild quests! Pirate Fort tussles!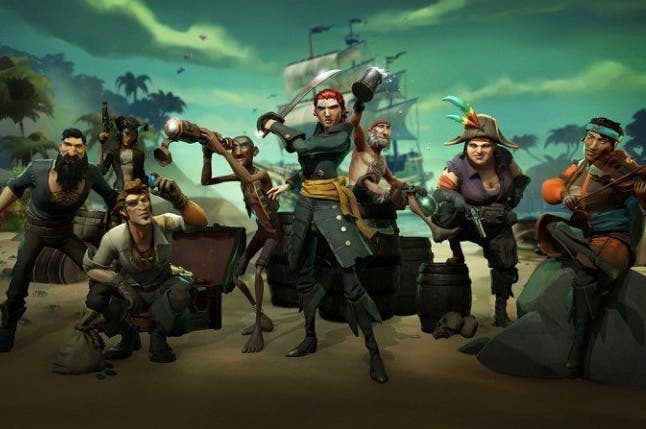 Arrrr you ready for the final Sea of Thieves beta before launch? Well, good news, you scabrous sea-turnip! It's now live and open to everyone on Xbox One and Windows 10.
You can hoist anchor and set sail for a weekend of piratical japery as of right now, and the final beta will draw to a tearful close on Sunday, March 11th, at 10am GMT.
The first important thing to note is that this is an expanded version of the game, with a feature list closer to Sea of Thieves' final launch day build than that seen during alpha and the more recent Xbox One and PC stress tests.
Raucous inter-ship combat is back - more on that in our big ol' list of Sea of Thieves tips - as are treasure hunting missions courtesy of the Gold Hoarders Guild. However, the Final Beta also introduces additional high seas malarky via the second of Sea of Thieves' three quest givers - the Merchant Alliance Guild.
These quests require you to collect animals from distant ports - pigs and chickens are specifically mentioned in the Final Beta introductory video above - then ferry them back to safety. It's not quite that straightforward though; you'll also need to tend to their various whims, such as feeding the pigs, along the way. Obviously, you'll want to try and avoid having your carefully laid transportation plans thwarted by bothersome pirates too.
Additionally, the Final Beta introduces ship customisation and the horde-mode-style, multi-crew tussles of Pirate Forts. Whenever an ominous skull beacon appears above an island, ships have the option of high-tailing it over to ward off the skeletal hordes. There's ample treasure for everyone once the fight is over but, unfortunately, there's only one key...
Given the Final Beta's open nature, you won't have to faff around with the Xbox Insider programme, as was the case previously - which makes things significantly less fiddly for PC players in particular. Should you run into problems accessing the beta, however, you can consult our guide on how to download and install Sea of Thieves for PC and Xbox one.
Lastly, Rare warns that participants should expect issues during the Final Beta. This will be Sea of Thieves' largest server load yet, so there may be times when things don't work as planned, or when it's necessary to put a temporary block on new players. We've a page on the most frequent Sea of Thieves Error codes if you're having trouble joining a game.
Rare says it will be working behind the scenes throughout the weekend, alleviating issues on the fly to hopefully make for a much smoother launch come March 20th.