Scott Pilgrim dev's new Kickstarter is for 2D action game Mercenary Kings
Needs more coin in the coffers.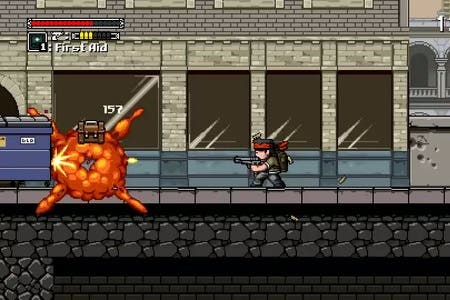 Scott Pilgrim vs. The World developer Tribute Games has started a Kickstarter for Mercenary Kings, a Contra-esque 2D shooter/platformer.
Currently the crowdsourced tally comes to $33,076 out of a goal of $75,000 due 13th September.
Mercenary Kings puts players in the role of King, the most skilled mercenary on earth. Set in Central America, King is trying to simultaneously save the world and get revenge on his former teammates' killers.
The game features an intricate crafting system where players can customise their weapons based on combining dropped loot.
There will be a strong focus on up to four-player co-op. If funded to $175,000, Tribute would like to add online co-op, unlike Scott Pilgrim vs. The World, which is only now receiving that feature two years after release.
The retro-inspired art and animation are done by Paul Robertson who worked on Tribute's previous titles, Scott Pilgrim vs. The World and Wizorb.
Ideally, Tribute would like to attain $200,000 and has posted a list of stretch goals on the Kickstarter including additional levels, weapons, enemies, bosses and the aforementioned online co-op.
Backers who pledge $15 will get a digital copy of Mercenary Kings when its available as well as a code for Wizorb - available on PC, XBLIG, PS3, PSP and Vita as a PlayStation mini.
$500 pledges will net a limited edition hoodie designed by Scott Pilgrim creator Bryan Lee O'Malley, as well as five copies of the game, signed art prints, a "hero contributor" credit and access to the closed beta.
So far Mercenary Kings is planned for a PC release in May with a Mac version to follow, but Tribute would like to develop for more platforms. Given that its previous work was on both PSN and XBLA, a console version seems likely.