Scott Pilgrim soldiers on two years later with new DLC
Introduces online multiplayer and the Wallace pack.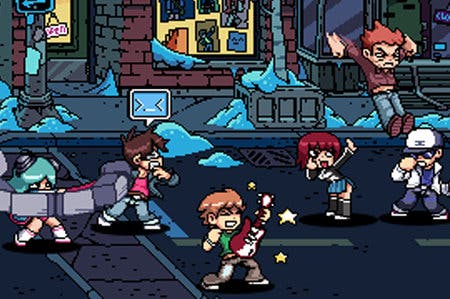 Update: Ubisoft confirmed to us that the DLC is coming to PSN as well. More details will be revealed closer to launch.
Original Story: Scott Pilgrim vs. The World is getting online multiplayer on 19th August on XBLA.
That's over two years since the release of the nostalgia-rich beat-'em-up parent game, which celebrates it's second anniversary on 10th August.
The long overdue DLC was quietly announced on Major Nelson's Blog hidden among several other release dates. The listing simply stated "Scott Pilgrim: Online Multiplayer + Wallace Pack," so ostensibly you'll get to play as Scott's snarky gay roommate Wallace.
Little else is known about it. We've asked Ubisoft for comment as well as confirmation for a PSN release, and we'll update as we hear back.
Our Simon Parkin quite liked Scott Pilgrim vs. The World back in 2010, when gave it a 7/10.
"Scott Pilgrim vs. The World is pretty much the perfect Scott Pilgrim game, hitting all the notes that fans of the series and its worldview could want," he wrote in his review. "But for those who couldn't tell an Envy Adams from a Julie Powers (pity them), it's little more than a cute parody game, meticulously detailed, but outdated by design."