Scalebound is a different kind of Platinum Game
Plus, what it's like getting blocked by Kamiya in real life.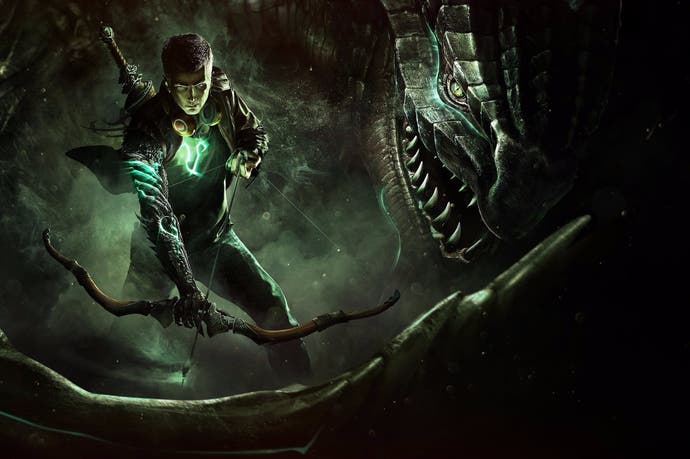 I think I've just upset Hideki Kamiya.
A day after Scalebound was properly revealed at Microsoft's Gamescom conference, we're assembled in a crowded room in the platform holder's sprawling booth, about a dozen journalists lining the walls as we're shown an extended demo of the action RPG. The reception hasn't been as great as some might have anticipated: there were grumbles about the frame-rate, although as the presenters here are at pains to point out, this is all from a pre-alpha build. There's been concern, too, that it's a grab-bag of existing ideas, and it's hard to see the Platinum sparkle beneath some generic dressing.
And so Kamiya's likely tired of the inane questions that are thrown his way in presentations like this: someone asks when the game's coming out (it's down for the end of next year, as announced in yesterday's show), followed up by a question about how large the open world map will be (big, apparently, to accommodate the dragon that fights by your side). I don't think I help matters particularly when I point out that Scalebound's lead character Drew, a spunky teen who dons a pair of Beats headphones before he goes into battle, seems like something of a jerk, and ask whether he's deliberately obnoxious.
Kamiya stares blankly into the middle of the room, where his gaze remains fixed while giving his answer. This is what it feels like to be blocked in real life. "So far we released such a small amount of assets - whether it's in video form or yesterday's conference - and I think it's too early to make that call on who Drew is," he says flatly in a well-rehearsed answer. Even though it's early in the day, I'm clearly not the first person to have asked this question. "There's a background, a story and an emotional side to Drew we've yet to talk about. And there's the mystery of why he was transported to this mystery world. I look forward to sharing more about the story a little bit later."
For what it's worth, the lead character is one of the few concerns I have about Scalebound. Its open world and combat have pangs of the excellent Dragon's Dogma, the combat looks to be wound with the tightness that's typical of Platinum and the tantalising concept of this rightly celebrated developer turning its attention to a fully-fledged RPG, with loot drops and all, makes me ludicrously excited to play it. And it's only in playing Platinum's games that their brilliance becomes clear.
Right now, though, it's a strictly hands-off demonstration, diving into more detail than what was shown at the conference, and affording us a look at another, more enclosed area. We're shown how you can gently direct your dragon, issuing instructions as it fights independently by your side. We're shown how you can upgrade your dragon, equipping it with armour and customising its body parts in different colours - stopping just short of fitting it out with neon underlighting, surely the ultimate accessory for any discerning wyvern.
We're shown the world of Draconis, a fantasy land that Drew's been sucked into, and one that's rich with lavender fields and strange, floating stone formations, the landscape torn apart by an energy source known as The Pulse. We're given brief glimpses of villages and towns, small hub areas that link the vast open world together.
We're shown what happens when you descend a little deeper into a confined dungeon, your dragon flying ahead without you and leaving you to fight alone. We're presented with a progression system that rewards you for how you fight: attack aggressively, and well, and you'll be rewarded with more skill points and gems you can farm. We're told how your relationship with your dragon will evolve throughout the game, as you forge a powerful partnership.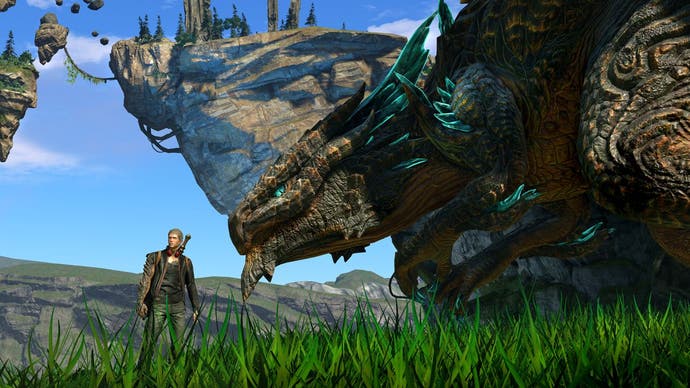 And we're shown Drew himself, who's got a moveset that's familiar from other Platinum games. It's been stripped back in parts - the fundamentals aren't as flashy as what you'd see in Bayonetta, for example - though elsewhere there's a little added flourish, as Drew can tether himself to larger enemies and scale them. His straight-up combat is a flurry of sword swipes (and there will be multiple weapons) and shield-enabled defence, occasionally punctuated by ground-shaking interventions as the dragon powers its way into the fray. There's another bar beneath his health that shows how much Pulse energy he has in reserve - and he's also able to switch into his own dragon-form, hard scales encasing his body as he's granted more attack power, and more defence.
It looks good enough, and you can never really judge a Platinum game until it's in your hands. I'm enjoying Scalebound's setting - you can sense the 16-bit innocence in those landscapes that comes from Super Hydlide, one of Kamiya's inspirations for the game - and the systems look deep enough to draw you in, even if there isn't anything particularly new there. I'm still, however, not entirely sold on Drew, but I'd probably be wise to take heed of the rest of Kamiya's answer to my earlier question.
"Every character I've created in the past, they're all very different," he says, his eyes still fixed to the empty centre of the room. "If you line them up, there's a wide variety of characters I created, and as kind of a rule, a policy for myself when I'm creating a game, I'm not doing it to please everyone. This is what I create - that's my job. As you play the game, you fall in love more and more with what I've created."
There's perhaps a little more arrogance in there that's been injected in translation, but I still take his point. Its true merit might be obscured right now, but it's worth remembering that this is a Hideki Kamiya game. That's typically shorthand for excellence, and we should know by now never, ever to underestimate him.