SBK X: Superbike World Championship
Lest we Fogarty.
When Eurogamer asked if I would go to the SBK X press event on their behalf, my first response was, "will I get to take an YZF-R1 around Silverstone like I did with MotoGP 09/10?" Obviously this was meant in jest. But what they said next pretty much sealed the deal anyway: "no, but you'll get to spend a day at a swanky hotel, and Carl Fogarty will be there". Four times World Superbike Champion Carl Fogarty. In!
As it has become less and less practical to make games for niches within niches, racing games have tried to become more accommodating, attempting to hook in hardcore fans but also people who just like the idea of throwing a vehicle merrily around a track. Four-wheel racers like Forza Motorsport 3 have opted to build an accurate simulation while offering an arcade experience through different levels of assists, and the recently released MotoGP 09/10 from Monumental and Capcom went down the same road, albeit with less success than Forza.
SBK X is a bit more old school, however, preferring to split things up completely. Playing a near-complete console build, the title screen fades away to reveal Arcade, Simulation and multiplayer options. Arcade and Simulation might as well be different games.
The Arcade mode controls are similar to those in MotoGP 09/10. You've got the triggers for acceleration and braking, as well as the left stick for steering/leaning and a "boost" button. To further emphasise how "arcade" this is, there's even a dedicated wheelie button. Out on the track at Donington aboard a Xerox Ducati 1198R, the arcade physics certainly live up to their name, as the bike steers effortlessly into each corner with minimal braking, and tapping the brake and gunning the throttle through hairpins drifts the bike without a hint of high-siding.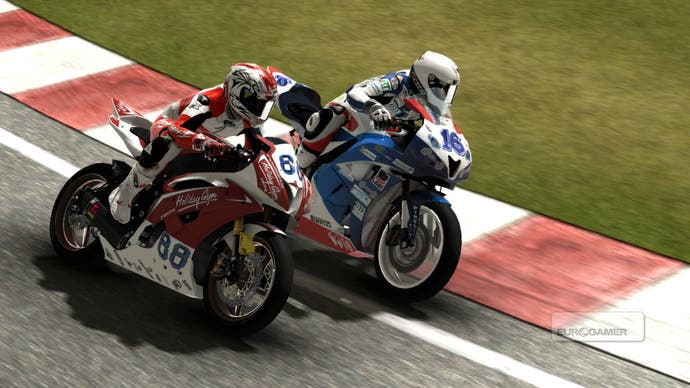 A browse through the Arcade features also turns up Quick Race, Quick Championship and Time Attack modes, but the most curious addition is Story Mode. Upon first impressions this seems to be a no-frills career mode where you start off in the Superstock 1000 class before moving up to the more competitive Supersport, eventually hitting Superbike. Before each race your manager also gives you a goal. When I finish 11th at Assen after one lap, beating his target by three places, his pre-race expression goes from "normal" to "happy". That's how I roll.
Of course, if the Arcade mode represented SBK X as a package, long-time Milestone fans would be mortified, and justifiably so, but talking to the development team it's clear that although they want to appeal to a wider audience, they aren't about to tarnish their reputation as a superbike simulation purveyor. So the switch from Arcade to Simulation mode is exactly that. Out go the single brake and boost buttons and in comes the more familiar analogue weight-shifting and separate front and rear brake control.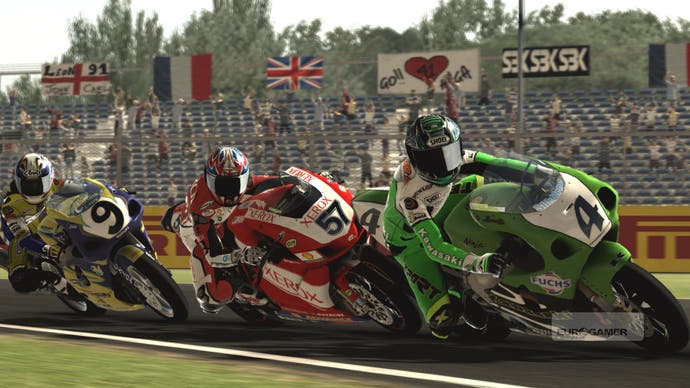 I try my luck on the Nurburgring GP-Strecke with Cal Crutchlow's YF-R6, and even with the simulation level set to low the riding physics are entirely different. In Arcade you can take liberties with late braking, but in Simulation you have to prepare for each corner accordingly - braking within realistic limits, leaning in and then gradually applying the throttle as you sweep through the apex. While still possible, power-sliding is subtler and easy to overcook if abused.
For those who won't accept anything less than pure motorcycle realism, full simulation seems unlikely to disappoint. Even the slightest mistake - like veering slightly off the rumble strip or accelerating too hard while cornering - results in your rider eating tarmac. There are also additional options for turning on tyre wear and bike damage, as well as rider weight and health, and bike damage is both graphical, in terms of scratched and cracked fairing, and physical, with gauges showing accumulated damage to the suspension, engine and brakes.