Sayonara Wild Hearts dev announces ongoing partnership with Annapurna Interactive
Will work together for the "foreseeable future".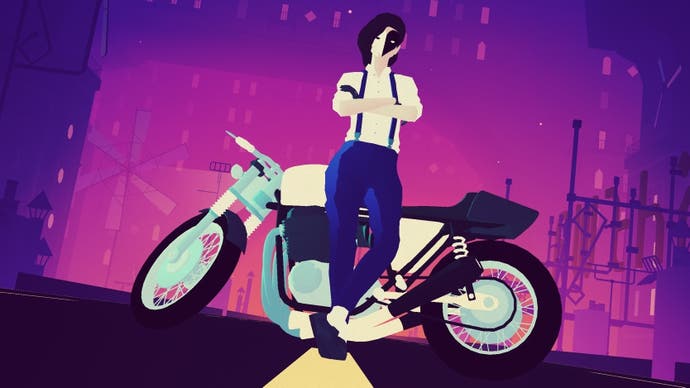 Simogo, the developer behind the wonderful likes of Sayonara Wild Hearts, Year Walk, and Device 6, has announced an ongoing partnership with publisher Annapurna Interactive.
Annapurna Interactive has made quite the name for itself in recent years, having published a string of critically acclaimed titles, including Giant Sparrow's What Remains of Edith Finch, Sam Barlow's Telling Lies, Jason Roberts' Gorogoa, and Mobius Digitals' Outer Wilds.
Simogo's vibrant rhythm-action spectacular Sayonara Wild Hearts was equally well-received when it emerged from under Annapurna Interactive's wing late last year ("Its exuberance is precision, its chaos is sheer choreography", said Eurogamer's Christian Donlan in his review), and it seems both parties were more than happy with the results of their first endeavour.
"After having worked together with our good friends at Annapurna Interactive on Sayonara Wild Hearts for quite some time," wrote Simogo's Simon Flesser and Magnus 'Gordon' Gardebäck in a new blog post, "we realised that we really enjoyed making games together. So, we have agreed to continue to do so for the foreseeable future".
In practical terms, this means Annapurna Interactive will publish Simogo future projects, while the studio continues to operate independently from its base in Malmö. This will enable it to "do things that aren't possible for us to make by ourselves" and with "less compromises".
"It could, to sum it up, mean a lot of new fun and unexpected stuff for us, and you, in the future. It's going to be wild and wonderful, and we hope you'll be here to take the journey with us."
As for the first fruits of Simogo's new partnership with Annapurna Interactive, all we have to go on currently is the smallest of teases. "Now, if you excuse us," concluded the developer, "we must get back to working on our next game; Project Fuzzy Optics."