Save up to £110 on Xbox One bundles today
Part of Amazon's deal of the day offers.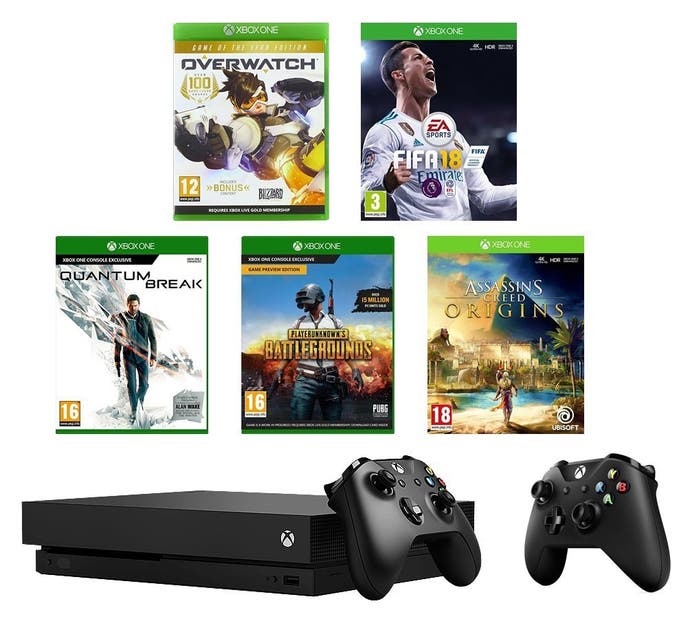 As a part of Amazon UK's current one-day deals, you can pick yourself up a pretty good deal on an Xbox One S or Xbox One X console, including a deal saving £110 on an Xbox One X with five games and an extra controller.

The five games in question are Overwatch Game of the Year Edition, FIFA 18, Quantum Break, PlayerUnknown's Battlegrounds and Assassin's Creed Oranges. All those, as well as an extra controller, will cost you £449.99, which incidentally is what the console normally costs on its own.
Alternatively, you can grab a bundle with an Xbox One X, extra controller, Overwatch GOTY, Quantum Break and Sea of Thieves for the same price.
If you're not into the whole 4K thing, you can opt to pick up one of a handful of Xbox One S 1TB bundles instead. For £229.99, you'll be able to get yourself a console with Sea of Thieves, Gears of War Ultimate Edition, PUBG, Assassin's Creed Oranges, and Overwatch GOTY or opt to switch out some titles for FIFA 18, Rocket League and more.
Meanwhile, over at Currys PC World, you can pick up an Xbox One S 1TB Starter Bundle with Doom, Fallout 4, FIFA 18 and a 3-month Xbox Live membership, all for £199.99 while stocks last.
Whatever your poison, you'll be saving a chunk of cash on a system by picking one up sooner rather than later. That's if that Days of Play PS4 Slim didn't already take your fancy, of course.
Elsewhere on the widest of world wide webs, you can check out some of what Jelly Deals has going on, which includes a guide to the best games of 2018 (so far), a daily list of the day's best deals, and a whole bunch more.