Saints Row: The Third PC extras detailed
Volition wants to make amends for SR2 port.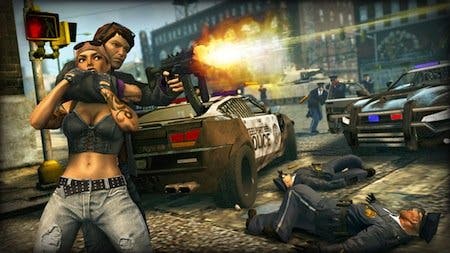 The PC version of Saints Row: The Third brings with it a handful of exclusive extras, developer Volition has revealed.
As detailed on the game's official site, the Steam version features the Saints Video Record Mode, which lets you record, save and share gameplay clips. You'll also be able to toggle the HUD on and off for cinematic effect.
Post launch, Volition is planning on offering PC users exclusive customisation options, including, oddly oversized bobblehead masks of Team Fortress 2 characters.
"Saints Row: The Third on PC is not a port, and it's our goal here at Volition to prove that to our PC fans," read Volition's announcement.
Confirmed support for AMD Eyefinity, DX9, DX10 and DX11, Crossfire, SLI, advanced depth of field, reflections and ambient occlusion quality provides additional evidence that Volition has put the effort in following the sub-par PC port of Saints Row 2 a few years back.
While we're on the subject, here are the PC system requirements:
Minimum:
OS: Windows XP
Processor: 2GHz Dual Core Processor (Intel Core 2 Duo or AMD Athlon X2) or higher
Memory: 2GB System RAM or more
Graphics: 320MB Video RAM GPU w/ Shader Model 3.0 support
NVIDIA GeForce 8800 series or better
ATI Radeon HD3800 series or better
DirectX: 9.0c
Hard Drive: 10GB
Sound: 100 per cent DirectX 9.0C compliant sound card or equivalent onboard sound
Recommended:
OS: Microsoft Windows 7
Processor: Any Quad Core Processor (Intel Core i5 or AMD Phenom II X4) or 3.0+ Dual Core CPU
Memory: 4GB System RAM or more
Graphics: 1GB Video RAM GPU w/ Shader Model 4.0 support
NVIDIA GeForce GTX 400 series or better
ATI Radeon HD5000 series or better
DirectX: DirectX 11
Hard Drive: 10 GB
Sound: 100 per cent DirectX 9.0C compliant sound card or equivalent onboard sound
Co-op play:
NVIDIA GeForce 8800 cards require 640MB of Video RAM
ATI Radeon HD3800 cards require 1GB of Video RAM