Hey Ash, whatcha doin' in Saints Row 4?
You can now add real life gaming celebrities as homies.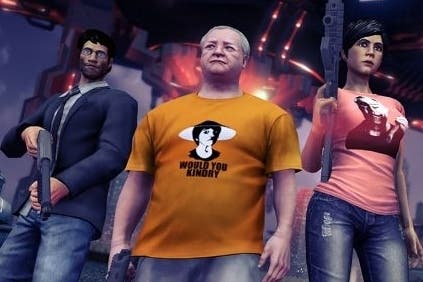 Saints Row 4 has added the cast of popular web show Hey Ash, Whatcha Playin'? as allies in its new DLC pack.
For those unaware of Hey Ash, Whatcha Playin'?, it's a show in which actress Ashley Burch (best known as Tiny Tina in Borderlands 2), and her real life brother Anthony (head writer of Borderlands 2) play fictionalised versions of themselves as they get into various video game related hi-jinks with their actual dad, Papa Burch. Also, the Burch family is a big fan of Saints Row and has been for quite some time.
"I have literally no idea why they would think this was a good idea, but we decided not to stop them," said Anthony Burch on the official Hey Ash, Whatcha Playin'? website.
"Volition's writers wrote all our dialog, and it's really funny, and the 'look out shorty, hit that dinosaur with your dildo laser' line from one of our episodes is actually in the game now," he noted. "Nothing makes sense anymore."
The Hey Ash pack costs $3 (about £2) and is available now on Xbox 360, PS3 and PC.
For more on Hey Ash, get a load of the Burch siblings espousing the virtues of Saints Row: The Third below.