S.T.A.L.K.E.R. dev's MMO/FPS follow-up Survarium shown off
New dev diary reveals Rudnya map, Scavenger faction.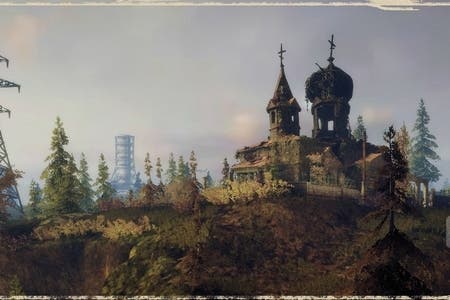 S.T.A.L.K.E.R. developer Vostok games have released a new developer diary detailing the creation of its upcoming sort of spiritual successor free-to-play FPS/MMO Survarium.
The latest video details the Rudnya map in a Chernobyl exclusion zone in which rival factions must fight for Penicillin in the post-apocalyptic wasteland. The map caters to a game mode in which two teams try to capture their opponent's base.
Rudnya consists of three main parts; a derelict church on top of a hill, an expansive marsh down below full of tall grass and branching paths from which to sneak around, and a village full of narrow corridors that's best suited for infantrymen.
The video also details the Scavenger faction, which all players begin as. Scavengers have basic weapons, but a special backpack that can carry more than any other class.
According to lead game designer Alexey Sytyanov, "He [the Scavenger] doesn't have a house, he's got very basic weapons, he's alone, dirty, lives in slums and tries to survive." They gather in safe zones like Scavenger camps "where they can buy cheap equipment, primitive weapons, can exchange food, water and, if lucky enough, booze".
Some of their arsenal includes the TOZ-122, a "5-loader hunting rifle," the TOZ-34, a shorter-ranged variant from the S.T.A.L.K.E.R. series, the TT pistol as a mobile light secondary gun, the Russian designed machine-gun pistol the Vitvaz, and the Remington 700 sniper rifle.
Survarium is being developed on Vostok's proprietary engine, which the developer noted is designed for videocards no lower than the level of the GeForce 8800 with 512MB video memory and 2 GB ram.
Watch the entire 11-minute developer diary below to see a glimmer of Survarium's beautifully oppressive environments.
Survarium is due out on PC in 2013.