Rust and Garry's Mod studio releases Vive game Chunks
Think Minecraft Creative mode with mod support. And rollercoasters.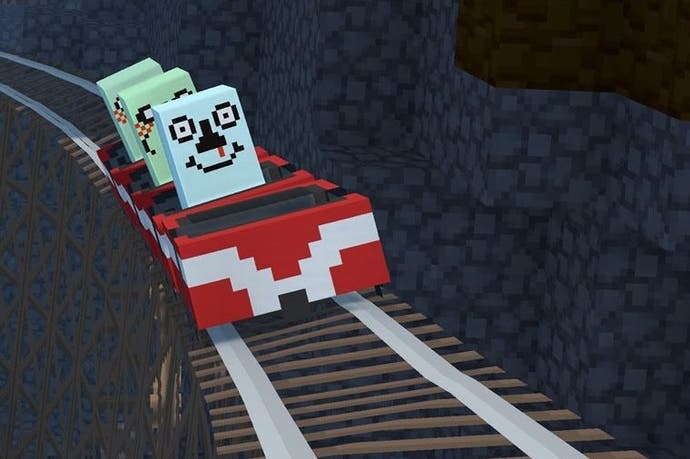 Facepunch Studios, the team behind Garry's Mod and Rust, has released an HTC Vive virtual reality game called Chunks into Steam Early Access.
It's a sandbox world building game that resembles Minecraft in Creative mode, and there's a bizarre emphasis on building and riding rollercoasters - why not?
You, as a relative giant, sculpt the blocky world before you, using a panel of tools and paints to sort of spray blocks into being. And if you need to destroy things you can fling out a load of dynamite, which looks and works almost exactly like Minecraft's TNT, but has "LOL" written on the side.
Rollercoaster tracks are automatically supported with framework so you can plonk them down quickly, and you can shrink yourself down into the carriages and ride them. You can also peruse any of your other creations as a shrunken, normal-sized person-thing in the world.
Crucially, you can also share all your creations in Steam Workshop and download custom tools and game modes to modify your experience. This is the creator of Garry's Mod we're talking about after all.
Chunks began as a project 10 months ago, brought to life by Facepunch's James King. It was originally called Vivecraft, apparently.
"It's still quite early in the development of Chunks. But it's an exciting point to be at," wrote Facepunch founder Garry Newman.
"It doesn't have a sh*tload of stuff to keep you super engaged yet. There's a bunch of quality of life stuff we need to do. Some menus are confusing. Some of the tool controls are confusing. We're totally aware of all this stuff.
"But it's cool and has a ton of potential. We're really proud of what James has achieved with it. At Facepunch we have a history of long term development of our games, we don't expect Chunks to be any different. Feedback is really valuable - so if you play it and something is tricky or confusing, please let James know. Especially if you have already refunded it because you hated it."
Chunks is £14.99 usually but £11.24 for the launch-time-being.