Rome 2: Total War live code demo confirmed in Rezzed developer sessions schedule
Plus timings for Project Eternity, Dreamfall Chapters, Frozen Endzone and more.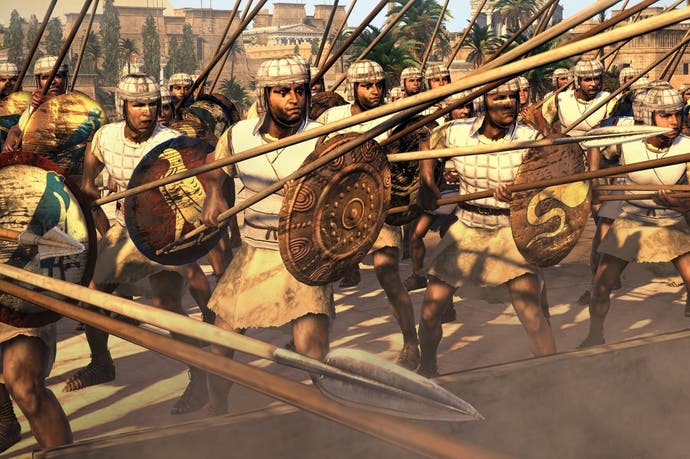 Rezzed: The PC and Indie Games Show is returning to the UK this June and in my role as curator of the developer sessions I've been beavering away over the last few months organising this year's schedule. I've got enough of it together now that I can let you know exactly when the majority of this year's sessions will take place.
A bit of background for those of you who are lost: Rezzed (tickets available at Rezzed.com) is a two-day show taking place on the weekend of 22nd/23rd June at the NEC in Birmingham, UK. Now in its second year, it allows attendees to go hands-on with the latest PC and indie games before release and - like its big brother, the Eurogamer Expo - there's also a schedule of developer sessions.
Some of the highlights of this year's schedule include Chris Avellone from Obsidian Entertainment coming over to talk Project Eternity, Red Thread Games' Ragnar Tornquist bringing Dreamfall Chapters, and another couple that I can unveil today - Mode 7 Games will be introducing Frozen Endzone at 2pm on Saturday, and Creative Assembly will be showing live code of Rome 2: Total War on stage on the Sunday.
Here's the schedule so far:
Saturday 22nd June:
12pm - TBA
1pm - Prison Architect (Mark Morris and Chris Delay, Introversion Software)
2pm - Frozen Endzone (Paul Taylor and Ian Hardingham, Mode 7 Games)
3pm - Dreamfall Chapters (Ragnar Tornquist, Martin Bruusgaard and Dag Scheve, Red Thread Games)
4pm - Project Eternity (Chris Avellone, Obsidian Entertainment)
5pm - Sir, You Are Being Hunted (Tom Betts, Big Robot)
Sunday 23rd June:
12pm - TBA
1pm - Luftrausers (Rami Ismail, Vlambeer) vs. Hotline Miami (Dennis Wedin, Dennaton)
2pm - Total War: Rome II Live Code Demo (The Creative Assembly)
3pm - TBA
4pm - TBA
5pm - TBA
I'm in advanced negotiations (sounds official, doesn't it?) to fill out the rest of those TBAs with some really cool stuff. Last year we had Peter Molyneux, Randy Pitchford, Dean "Rocket" Hall and many others and the quality should be just as high if not higher this year. I'm looking forward to being able to unveil the rest. (And if you're reading this in the months after it's published on 16th April, do check the Rezzed website to see if we've announced any more since then.)
If you've never been to a developer session at Rezzed or the Eurogamer Expo before, here's my usual blurb about it: "Developer sessions recreate the behind-closed-doors intimacy of a private industry presentation for hundreds of gamers to experience in person. Each developer will present new information on their project and there will be an audience Q&A at the end of each session so that attendees can ask any burning questions."
Rezzed isn't just about developer sessions, of course. The show floor is home to dozens of the latest PC and indie games - we've recently opened submissions for the Leftfield Collection of upcoming indie titles, incidentally - and we also have a large board game area, classic game tournaments (last year we had Quake 2, which was briskly attended despite competition from Far Cry 3 and Borderlands 2!) and lots of vendors selling game-related merchandise. And sweets - we sell unbelievable quantities of sweets. It's really weird.
Look out for more Rezzed announcements soon - more developer sessions, playable games on the show floor and other stuff. Oh, and in case full disclosure wasn't self-evident in the above, Rezzed is organised by Gamer Network, which owns Eurogamer.net. Check out Rezzed.com for all the details on the show.