Rogue Legacy 2's PC early access launch has been pushed back to August
Due to "minor setbacks".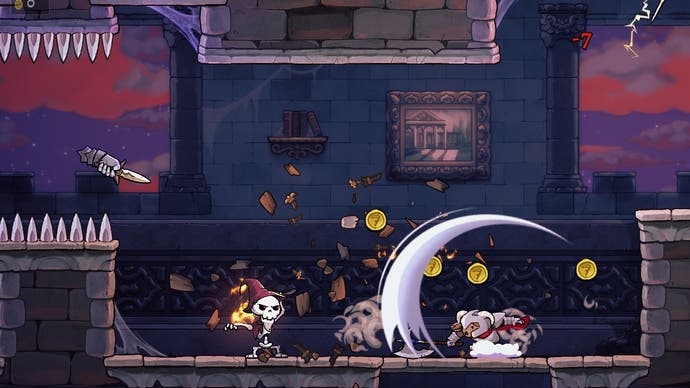 Developer Cellar Door Games says Rogue Legacy 2, the sequel to its superb Castlevania-esque rogue-lite exploratory platformer, will now make its early access debut on Steam and the Epic Games store a month later than originally announced.
Cellar Door had initially set a 23rd July launch date for Rogue Legacy 2's early access arrival on PC but, now, in a statement posted to Twitter, the developer has announced it will delay release until 18th August, citing "minor setbacks" as the cause.
"Game development is a lot like football", the Cellar Door explained in its announcement post. "It's weird, unpredictable, and we don't know all the rules. And just like football, when you get the ball, sometimes you've just gotta run with it.
"While stablising the game for launch, we're run into some minor setbacks, but more importantly, some features got so close to completion that we just absolutely had to see them through. This means more content, more stability, and more bang for your buck come launch day...In our opinion, the game is already good. But these few extra weeks will help us turn this football into a homerun!".
Rogue Legacy 2, if you're unaware, takes the acclaimed procedurally generated action-platforming of the first game - which saw each new play-through undertaken by a previous hero's heir, each possessing a fresh mix of classes, abilities, and traits that could dramatically affect subsequent runs - and shakes things up with new abilities, unique weapons for hero classes, enhanced biome generation, improved accessibility, and more.
It also gets a rather lavish visual makeover, and introduces permanent abilities known as heirlooms, said to bring the experience closer to being a "true Metroidvania".
Rogue Legacy 2 will launch at $19.99 USD (around £16) on 18th August, and its price is expected to rise to $29.99 (around £24) come its eventual version 1.0 release.