Rockstar talks Red Dead Redemption 2's wildlife, hunting, and fishing
Around 200 species of animal!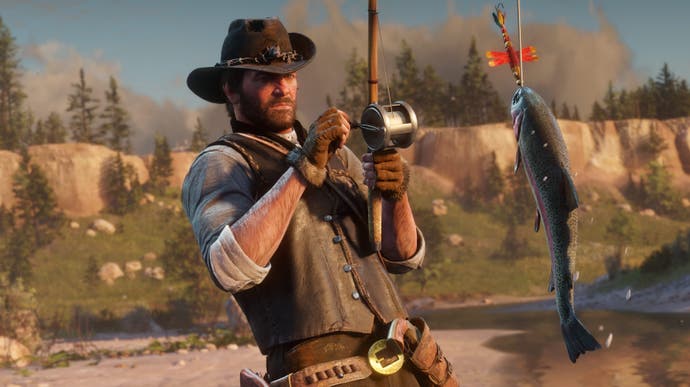 Red Dead Redemption 2 is looming large on the horizon, which means Rockstar's lips are growing looser by the day. And now, following last month's location reveals, it's ready to shine a spotlight on fauna - and how best to hunt it down.
On the surface, wildlife mightn't seem like a particularly thrilling focal point but, as Rockstar has demonstrated time and time again, it's the attention to detail that makes all the difference in open world games. And with the studio promising around 200 species of animals, birds, and fish (not to mention an impressive 19 distinct breeds of horse) in its highly anticipated Wild West sequel, that's a enormous amount of life to enrich the world. According to Rockstar, each species responds to its environment in a unique way, forming a complex ecosystem: "Deer, bison and pronghorn traverse the plains in large herds," it says, "scavengers quickly sniff out carrion, sockeye salmon leap upstream, wolves attack in packs surrounding their prey, geese fly in fixed formations, possums play dead, rodents scamper into tree hollows, grizzly bears bluff charge when threatened, and birds of prey soar on thermals."
The Red Dead Redemption 2 website has a whole batch of striking art highlighting some of the creatures that players can encounter on their travels, as well as a few additional tips for those that choose to hunt them as a valuable source of food, materials, and income. "A huge variety of fish swim the many rivers, lakes and streams, and selecting the right bait or lure is key to a successful day's haul," explains Rockstar. Additionally, tracking an animal "takes focus and patience; move carefully and watch the wind direction or you will alert your prey." If your first shot isn't fatal, however, your target will try and escape, and you'll need to track its blood trail to find it again and finish it off for good. Once a hunt is successful, you're free to either skin and butcher the animal where it falls or strap it to your horse and transport it elsewhere whole - you won't want to leave it on its own for too long, however, or you're liable to lose your spoils to scavengers.
Skins, parts, and meat can apparently be sold to butchers situated in towns, cooked at camp, or crafted into clothing and other items. Rockstar notes, however, that you'll need to aim well and ensure you're using the best weapon for the job during a hunt - picking a gauge of rifle that suits the size of the animal, for instance, or a bow for a quiet, clean kill - in order to net the best quality meat and pelt, and thus the most money from a trade.
There's more on Red Dead Redemption 2's fauna, fishing, and hunting on the official website, and the game, as if you need reminding, is out on Xbox One and PS4 this October 26th.