Rocket League and Dying Light crossover content revealed
Rocket League teases basketball mode this month.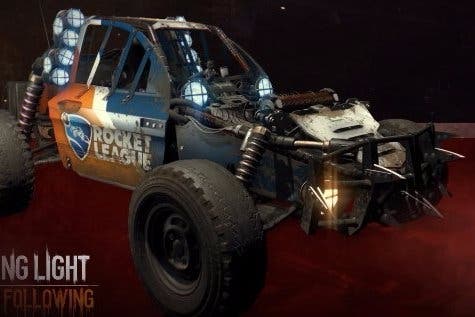 What do Rocket League and Dying Light have in common? They're both multiplatform and they both have cars. That's not much, but it's enough for the developers of both games to team up and introduce crossover content with one another.
In Dying Light: The Following, you can get dune buggies with a unique Rocket League themed paint job by entering the code "LightMyRocket" here.
Conversely, you can adorn your Rocket League vehicles with Dying Light-themed gear.
"We're huge fans of Rocket League and because both games offer great driving fun, we thought why not just partner up and give fans of both games some unique stuff."- said Dying Light producer Tymon Smektala.
"Rocket League's continuing success helped us foster some really awesome partnerships for Psyonix, so when Techland reached out to us we thought being included in a AAA title like Dying Light made a whole lot of sense for both communities," added Psyonix social media marketing manager Kyle Lemmon.
Furthermore, Psyonix teased a new basketball-inspired mode coming to Rocket League entitled RocketLeagueHoops. The following tweet suggests this addition will arrive this month as part of "March Madness".