Rock Band iOS "no longer playable" after 31st May
UPDATE: EA states "Rock Band will remain playable".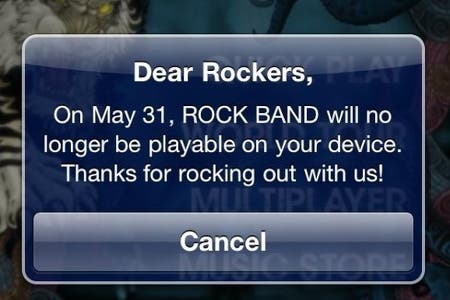 UPDATE: Rock Band iOS will remain playable, a new statement from EA has announced, despite last night confirming the opposite.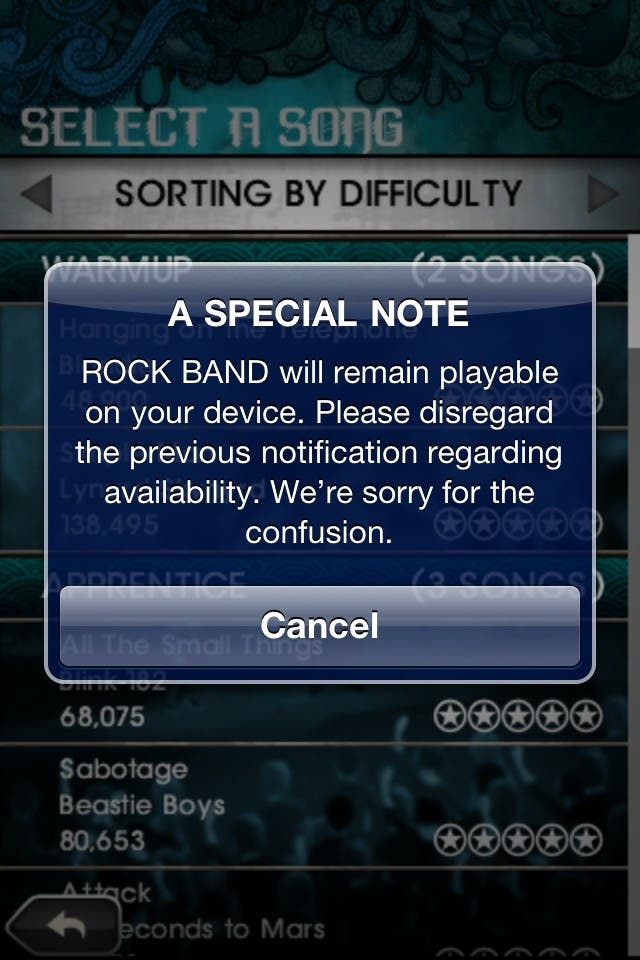 A new in-game notification released to users of Rock Band iOS states:
"A special note: Rock Band will remain playable on your device. Please disregard the previous notification regarding availability. We're sorry for the confusion."
Last night EA published an FAQ page on its support site confirming the opposite: that Rock Band iOS support would be switched off as of 31st May, reiterating a statement released to players yesterday. That FAQ page has now been taken offline.
Users who accessed the FAQ page before it was pulled were told the following information: "We will be suspending support of Rock Band after May 31 and focusing resources on other EA titles. We thank everyone for playing Rock Band, and we encourage you to explore some of the other exciting titles in our mobile line-up.
"The Rock Band servers will be live through May 31, 2012. If you have already downloaded the game, you can continue to play until then."
EA's explanation for the mixed messages is simply that initial in-app message "was sent in error", a statement passed to Eurogamer reads.
"We apologise for the confusion this caused. We're working to clarify the issue that caused the error and will share additional information as soon as possible."
ORIGINAL STORY: The iOS version of Rock Band will no longer be playable after 31st May, an in-game message has begun to inform players.
"On May 31, Rock Band will no longer be playable on your device. Thanks for rocking out with us," the message reads.
Rock Band is still available to buy from the App Store at full price, £2.99.
Access to the in-game store and its library of DLC has already been disabled, however.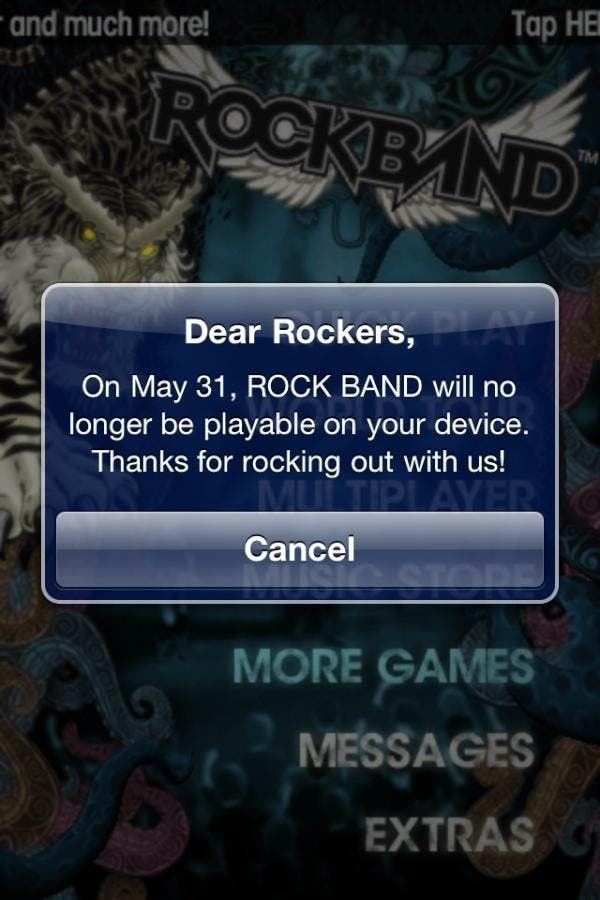 EA could, theoretically, deploy a game update to stop the game working, but players would have to manually accept or decline the update.
EA Mobile's Support site has been taken offline. A basic message states: "This site has been disabled for the time being," with no further explanation.
Licensing problems could exist with the game's song catalogue, or the issue may lie with Rock Band developer Harmonix's current relationship with publisher EA.
"My guess is that it has something to do with the MTV Games and EA logos that pop up when you load it," Harmonix community manager Aaron Trites wrote on the Rock Band official forums. "Since we are no longer partnered with them, I have no idea how that has affected projects like Rock Band on iOS."
Harmonix's communications chief John Drake also appeared to be surprised by the issue. "@Harmonix doesn't publish Rock Band on iOS. Working to better understand what's up ASAP. Sorry we don't have more info yet," he tweeted.
Eurogamer has contacted EA Mobile for comment and expects to recieve an official response shortly.