Riot shuts down League of Legends public chat rooms
"Rife" with RP sellers, scammers and Elo boost spam.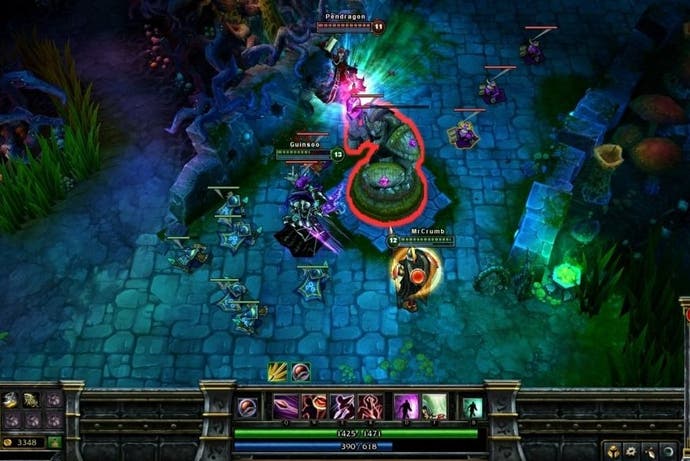 Things have got so bad in League of Legends' public chat rooms that Riot is shutting them down, the developer has announced.
They're "rife" with RP sellers, scammers and Elo boost spam, Riot said in a statement published on the League of Legends forum.
RP is Riot Points, one of two in-game currencies. Elo boost spam refers to having someone boost your Elo rating, a method for calculating the relative skill levels of players.
There's also the issue of moderation. These chat rooms - and even private chat rooms and community hubs - lack moderation tools beyond the ignore button, Riot pointed out.
"While the experience in private chat rooms is better than the public versions, we still want to provide tools to address unwelcome drop-ins and toxic behaviour," the developer said.
So, Riot is disabling the public chat rooms "until they're useful and accessible". "In their current shape they just don't work and can actively create negative experiences for many players (especially new players)," Riot added.
In the meantime, private chat rooms and messaging will remain available to everyone, and Riot will work on improvements to chat and chat rooms "aimed at enhancing usability and adding new functionality". It plans to create a set of tools that lets players and the developers create, own and manage "different kinds of social environments. The public chat rooms will be brought back "as soon as we can", Riot said.
Meanwhile, Riot outlined its goal for chat in League of Legends. It wants to create a persistent hangout for the friends you play the multiplayer online battle arena game with.
"At the end of the day, when you log in you should feel like you're surrounded by active players that like to play League the way you do," Riot said.
"You should be to able jump easily into games with those friends without having to send game invites one by one."
Riot has long battled problems with the millions strong League of Legends community, which has a reputation for the "toxic behaviour" it mentioned in the statement on chat.
The free-to-play MOBA, which pits two teams of five players head-to-head in competitive multiplayer matches, is often criticised for the behaviour of its gargantuan player base, despite Riot's best efforts to improve the situation.
Last year it released a video calling on players to employ sportsmanlike behaviour - and released statistics to show it's in their best interest.