Ring Fit Adventure on Nintendo Switch is now just £40
Amazon has slashed the price of Nintendo's fitness RPG to its lowest ever price.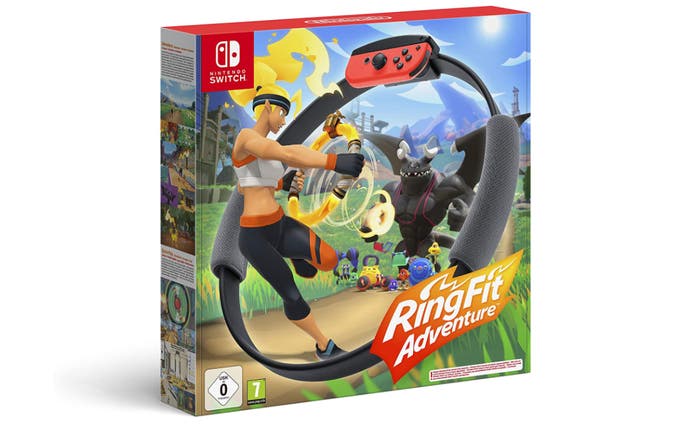 Back during the 2020 lockdown, Nintendo kindly sent me a copy of Ring Fit Adventure so I could review it, and I still genuinely love it! Being able to work out from the comfort of my home with no pressure of any monthly gym fees was/is my ideal workout strategy- and it's probably the same for many others too.
Compared to an unused gym membership, Ring Fit Adventure lets you improve your fitness in your own time and at your own pace. The fitness RPG feels like you're playing a game rather than exercising. There's a sense of accomplishment afterwards, rather than a pang of guilt when that dreaded gym payment leaves your bank account.
If you're in a similar boat i.e. paying for a gym membership you're not using, or you just want to move around a bit more, I would highly recommend Ring Fit Adventure! It's fun, energising and if you're an introvert like myself, working out at home means you can run like Phoebe from Friends and feel great about it afterwards.
This doesn't mean to say regular gym-goers won't find Ring Fit enjoyable too. It could be a great addition to your workout routine, especially if you want to get some cardio in before work, or you want to enjoy some light exercises over the weekend.
If you've been debating whether to buy Ring Fit on Nintendo Switch, there couldn't be a better time to buy it. Amazon has slashed the price to just £40 today - possibly its lowest ever price on the site and saving you £29.99.
If you don't already own a Nintendo Switch, you can currently pick up a bundle with the console and Ring Fit Adventure for £294 at Currys - when selecting free delivery and using the code FNDDGAMING at the checkout.
If you're looking for a similar deal in the US, Ring Fit Adventure currently has a smaller discount at Walmart for $69.88 (was $79.99).
A guilty confession, maybe, but I used to love the mode on the Wii Fit where I could jog endlessly and escape my thoughts. Ring Fit Adventure offers the same satisfaction and thanks to its RPG battle system, along with a bunch of mini-games, there's all sorts of fun challenges to overcome. Another personal fave of mine is the music mode, which lets you exercise in time to the beat of songs from The Legend of Zelda: Breath of the Wild, Super Mario Odyssey, and other beloved Nintendo tracks.
Looking for even more affordable fitness games on Nintendo Switch? If so, you should check out Fitness Boxing and its sequel: Fitness Boxing 2. And if you're looking for a game to simply get your body moving and your heart pumping on other consoles, Just Dance 2022 is under £30 at Amazon right now.
You can find even more of the best Nintendo Switch deals right here or go and give Jelly Deals a follow on Twitter, where we share all the best gaming deals throughout the week.