Rift's first expansion Storm Region will triple game's size
Level 60! Guild-owned Dimensions! Tons of new content!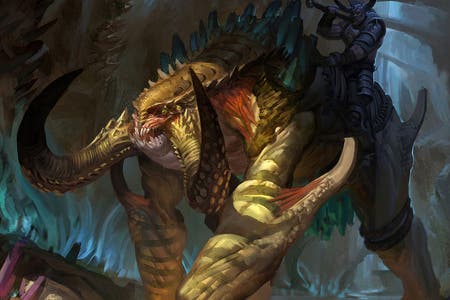 The very first expansion for respected and successful MMO Rift will be Storm Legion, Trion has announced.
It's release is pencilled for Q4 2012, but expect to hear more at E3, Eurogamer was told this afternoon.
Storm Legion's based around some batty old woman, dragon lord, whatever, called Crucia. She thinks she's going to invade Telara by using some Infinity Gate. And if she does - well, let's just say she's not nanny material.
To stop her, you'll need to adventure to two massive new continents that more than triple the existing size of the Rift game world.
There you'll find new enemies like a giant Colossus, plus new epic quests, seven dungeons, three raids and a Chronicle.
Story stuff aside, Storm Legion raises the level-cap by 10, taking it to 60.
There are four new souls, one for each Calling.
Trion's adding Dimensions, which are customisable spaces guilds can own and fit out. "Own a sliver of Telara," advertises the Rift website.
Grandmaster crafting is coming and there are new capes to swish around. There are pictures of the capes in the Storm Legion concept art gallery.
There are new mounts, and one of them may be the hulking four-legged thing with huge tusks and arms in the concept art gallery.
There will be new pets, titles, artifacts, collectibles, puzzles and achievements.
Finally, something billed as Join the Hunt will let you fight increasingly tough planar bosses. Is this a wave-based mode?
That's all we can glean for now. But we're off to see Trion at E3 next week. If you have any burning questions, let us know.