Riders Republic might be the best extreme sports game in an age
Hands-on with the beta.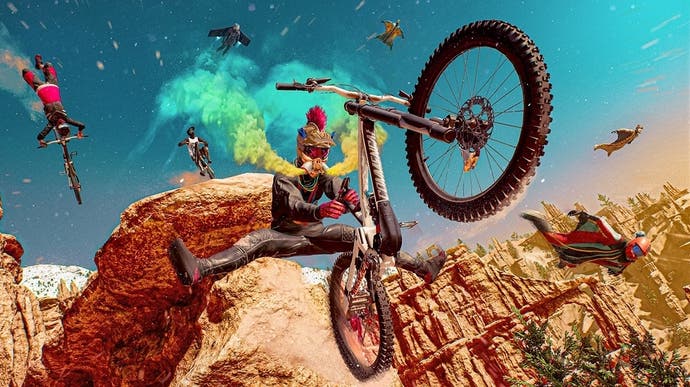 There's a duo of arcade games that are often - and quite rightly - pined over by lovers of the genre, and all these years later the legends of Blur and Split/Second seem almost inseparable (indeed, the two were released around the same time, one of the many reasons behind their lack of success and the subsequent demise of the talented studios behind both games).
Spare a thought, though, for the equally often overlooked Pure, Black Rock Studio's predecessor to Split/Second. Here was an arcade racer with an incredible sense of speed and verticality, and one that captured the thrill of hurling yourself down the side of a steep plateau that's rarely been matched ever since. If you loved mountains in all their stupendous drama and beauty, Pure was the game for you.
And now Riders Republic, it seems, might well be the game for you. I've spent half a day with the recent beta and been frequently stunned by it all, enjoying its overexuberance and over-the-top take on the various extreme sports it takes on. I've not really felt that same pure thrill of speeding downhill through wilderness and then getting the sweet release of a stupendous drop and equally breathtaking vista since, well, Pure - and Riders Republic really could be one of the very best big budget extreme sports games in all those long years hence.
It's all very Ubisoft, with a big - actually, make that colossal - map that slowly unfurls as you progress, and soon enough it's crowded with seemingly endless distractions; a mountain bike course here, or a stunt run there. What a map this is though - the Justice League of great American parks, as Donlan elegantly said, with Sequoia, Yosemite, Bryce and Half-Dome all smooshed together and somehow losing none of their sense of impeccable scale - and like Steep it's accompanied by a brilliant 3D model you can comb over.
There's a real impulse behind unlocking it, too, as you're quite literally playing the map - the cliff faces, the crevices and the thick copses. See that mountain over there? You can go fling yourself off it! And on the way you'll buckle and bump through downhill rivers while hunting out opportunities to grab a little air and squeeze in a trick or two.
There are some welcome influences from elsewhere in the Ubisoft stable too. Party up with a gang of friends to go from event to event - or simply make some of your own fun along the way while riding cross-country - and there's something of The Crew. There's unexpectedly a fair amount of Trackmania, too, the map itself teeming with other player's icons, and with Mass Races throwing over 50 together in hilarious, bombastic streams of players cascading down the side of a mountain.
And of course there's plenty of Steep, that strange and often sumptuous game that preceded all this. There's no escaping that this is essentially a sequel to Ubisoft Annecy's somewhat underappreciated - and in some places undercooked - 2016 outing, only this time with a shift to sunnier climes, a slightly more cumbersome name and bikes.
It's those bikes that form the backbone of the first few hours with Riders Republic, and they're shaping up to be fine additions too - there's a swift sense of momentum, and holding onto it against all odds, when riding a mountain bike downhill, all held together by a straightforward stamina system that recharges that little bit quicker when you're not pressing down on the trigger. It's all proven immensely satisfying, backed up neatly - for bike lovers like myself, at least - by the appearances of real brands and real bikes with which to perform your unreal tricks.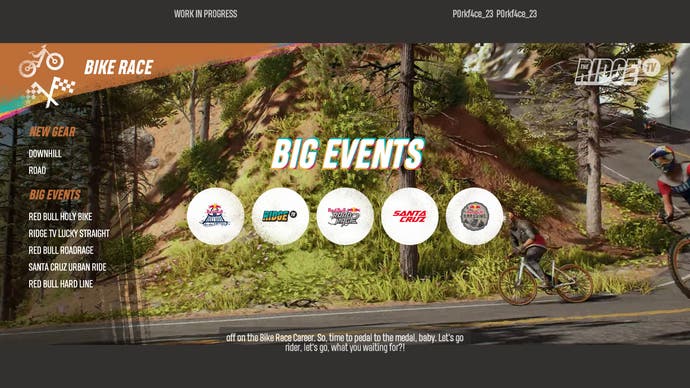 Some great strides have been made by Ubisoft Annecy here, though that's not to say some of Steep's flaws haven't found their way here either There remains a slight fuzziness around the trick system that stops them from being quite as satisfying to pull off as the very best in class - though maybe that's something that will come with familiarity, or by opting for the other of the two main control options on offer here that afford you a bit more granular control. There's also that slightly forced whackiness that can grate after a while, though it's easy enough to just zone out and enjoy the abundance of scenery should it all get a bit much.
Do that and you'll see so many of Steep's more positive points are here to be found in Rider's Republic. Ubisoft Annecy's first crack at extreme sports was always a bit lumpy, though I've always thought it a bit of a shame it never found more love. Rider's Republic should hopefully remedy that, and if it can maintain its momentum for the final thing this October then it could go one step further and earn itself a cosy little place among the greats.